I love creating free content full of tips for my readers, you. I don't accept paid sponsorships, my opinion is my own, but if you find my recommendations helpful and you end up buying something you like through one of my links, I could earn a commission at no extra cost to you.
Learn more
Snuba is an awesome mix of snorkeling and scuba diving, and there are lots of places to try it in Oahu. We've picked the best ones for you. Plus we have all the details you need to know!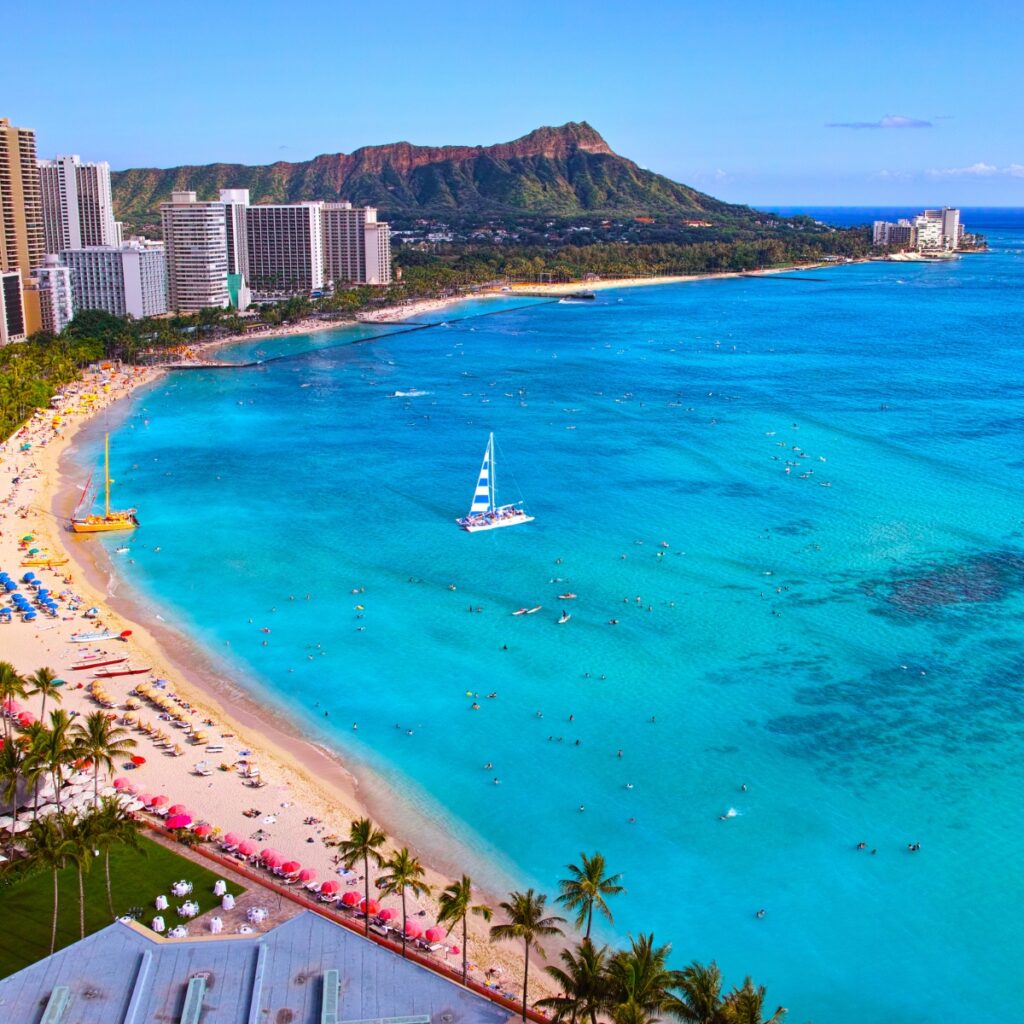 The 11 Best Snuba Spots on O'ahu
Aweoweo Beach Park
This spot is often overlooked, but it's a great, quiet spot on the North Shore that is known for its turtle sightings.
It's located in a residential neighborhood, so drive with care.
It's great for families, with restrooms, picnic tables, a basketball court, a playground, and open green space.
Hanauma Bay
This nature preserve is excellent for families with small kids (8 years and up) who want to snuba (best systems here by the way) in a safe, beautiful environment.
It's calm, shallow, and regulated by the State, and is home to some of O'ahu's best coral and sea life.
Lifeguards are always on duty, and conditions are usually calm. It can get crowded, so it's best to arrive before 8 a.m. or after 2 p.m.
Hanauma Bay is a must-visit spot for anyone looking for a day of fun in the sun. Located just 25 minutes east of Waikiki, this stunning beach is the perfect place to spend the day snorkeling, swimming, and snuba.
Hanauma Bay is also known for its beautiful marine life. With its shallow waters and curious fish, it's the perfect place to teach the kids how to snorkel or take your 8-year olds on a snuba tour. You'll be able to spot the colorful Humuhumunukunukuāpuaʻa, as well as a variety of other fish, coral, and sea life.
Shark's Cove
This naturally-protected swimming area is home to many fish, coral, and rock formations.
It gets its name from the shape of the reef, not because it's overrun or frequented by sharks.
It's one of only three Marine Life Conservation Districts on O'ahu, so the site will be especially plentiful in aquatic life and the fish here are less afraid of human visitors.
It's a summer-only spot, as conditions in the winter tend to be very rough. It can get crowded and it can be hard to park, so it's best to avoid arriving mid-day.
Shark's Cove on Oahu's North Shore is a hidden gem. From May to September, the waves settle down and the cove is perfect for snuba. It's protected by lava rocks and the water is usually 5 to 10 feet deep. Fish can't get out, so it's a great spot for beginner snorkelers as well. Plus, the sandy beach makes it easy to get in and out of the water.
Amenities at Shark's Cove
When you're ready to hit the water, here's what you can expect:
No lifeguards on duty
Restrooms and showers
Picnic tables
Snorkel rental shop across the street
Food trucks across the street
We love Shark's Cove for its clear water and protected lagoon. Before you go, make sure the conditions are good for snuba by checking lifeguard flags and conditions. Don't forget to grab some reef-safe, mineral-based sunscreen before you go.
Bonus Spot: Three Tables
Just south of Shark's Cove is Three Tables. Named for three table-like coral formations just offshore, Three Tables is another great spot for snuba. Plus, since it's part of the Pupukea Marine Life Conservation District, the fish population is huge. Just float over the three tables for the best experience.
Kuilima Cove
Unlike most North Shore locations, Kuilima Cove is a year-round destination thanks to a protective rock wall that blocks many of the waves.
It's located adjacent to Turtle Bay Resort, the filming site of several movies, including Forgetting Sarah Marshall.
Hawaii is full of incredible beaches, and Kuilima Cove is one of the best for snuba. Located next to the Turtle Bay Resort on Oahu's North Shore, this large cove is protected by lava-rock walls and offers excellent water clarity even when the waves are high. The water is 5-15 feet deep, and you can explore the coral reef and rocks for fish and sea turtles.
Kuilima Cove is a great spot to see the endangered Hawaiian Green Sea Turtle. Keep your distance (10 feet or more) and never touch them, as it's illegal. Just enjoy the view!
Be careful of the lifeguard buoys, as they mark the channel out of the cove. The currents here can be strong, so it's best to stay away from the buoys.
Amenities at Kuilima Cove
Here's what you can expect when you visit Kuilima Cove:
No lifeguard on duty
Restrooms and showers available
Food available at Turtle Bay Resort and Beach House by Roy Yamaguchi
Public parking available in the Turtle Bay Resort parking lot
Turtle Canyon
Turtle Canyon is one of the most dependable places to see sea turtles on the south shore.
It has many small dense coral formations and serves as a "cleaning station" for turtles, who come to have their shells cleaned by small fish.
It's best visited via a catamaran or sailing tour.
Electric Beach
If you're looking for an adventure that's sure to make your heart race, then Electric Beach is the spot for you! This snorkel spot is for moderate to advanced snorkelers and a snorkel buddy is a must. But with snuba you always have a guide with you.
Fish flock to the warm water pipe outlet of the local electric plant, creating an artificial reef that's teeming with life. Here's what you need to know to get out to the pipe outlet:
Electric Beach is located in West Oahu, on the way out to Waianae, just past Ko Olina Resorts. Park at Kahe Point Beach Park. Just a heads up, car break-ins are common here so don't leave anything in your car.
Amenities at Electric Beach
Electric Beach has plenty of amenities to make your snuba experience a breeze:
Large parking lot
Sandy beach access
Restroom and shower facilities
Ko Olina Lagoons
If you're staying on the west side, you can snuba in one of the four man-made lagoons at Koolina.
The snuba areas are small and limited to the rocky sides, but they offer a safe, protected area for beginners to see tropical fish.
It's a good place to practice fish identification, so bring a waterproof fish ID card with you.
Lanikai
Lanikai is a great spot for snuba, with crystal clear waters and plenty of colorful fish.
It's a great spot for beginners, as the waters are usually calm and shallow.
If you're feeling adventurous, you can swim out to the Mokulua Islands, where you'll find even more fish and coral.
Waimea Bay
Waimea Bay is a great spot for snuba, with plenty of colorful fish and coral.
It's a great spot for more advanced snuba divers, as the waters can get a bit choppy.
If you're feeling adventurous, you can swim out to the offshore rocks, where you'll find even more fish and coral.
Sans Souci Beach
Sans Souci Beach is a great spot for snuba, with plenty of colorful fish and coral.
It's a great spot for spotting sea turtles, so keep your eyes peeled!
Queens Beach
When it comes to snuba in Oahu, Queens Beach in Waikiki is a must-visit spot. While Waikiki Beach is known for its surfing, the snuba here is just as good. Here's what you need to know before you go:
Queens Beach is located on the Diamond Head side of Waikiki, near Kapiolani Regional Park. It's on the far side of Waikiki Beach, so you'll find fewer beachgoers here.
Amenities
Lifeguard on duty
Restrooms and showers
Food nearby in Waikiki
Parking available at the Honolulu Zoo (paid)
Exploring the Underwater World with Snorkeling Tours on Oahu
What to Expect
Snuba tours are the perfect way to explore the underwater world and all its wonders. You'll get to access some of the best snuba spots, and you won't have to worry about bringing any gear or knowing what to do – the tour will provide you with all the equipment and instructions you need. Plus, some tours even throw in a snack and a drink to keep you going! Most tours last between 3 and 6 hours, and you'll be taken to the spot by boat.
Stay Safe While snuba'ing in Oahu
Know the Risks
Snuba in Oahu is an incredible experience, but it's important to know the risks before you dive in. The number one cause of death for visitors to Hawaii is snorkeling-related. So, before you take the plunge, brush up on some diving safety tips.
You are accompanied by certified instructors that can keep you safe, so it's a lot better than snorkeling on your own.
Wait a Few Days After You Land
A three-year study by the Hawaii Department of Health found that tourist snorkeling deaths are largely the result of low oxygen levels in body tissues prompted by excess fluid buildup in the lungs. This condition is known as hypoxia induced by rapid onset pulmonary edema, or ROPE. Long-distance air travel may be the cause of hypoxia, leading to a disproportionate number of visitor snorkel drownings. So, wait a few days after you land on Oahu before you book one of the snuba tours.
Shark Safety
If sharks are scaring you away from snuba on Oahu, keep this in mind: Hawaii has more than 9 million visitors each year and the odds are in your favor that you'll be able to swim and snuba safely in Hawaii. To reduce your chances of meeting a shark while out enjoying the water, follow these shark safety guidelines:
Don't go off alone. Swim and snorkel with other people.
Avoid murky water, harbor entrances, stream mouths, channels, or steep dropoffs.
Avoid swimming at dawn or dusk.
Don't enter the water if you're bleeding — even a little bit.
Don't wear high-contrast clothing or jewelry.
Don't splash excessively.
Don't go in the water if a shark has been spotted.
If fish or turtles begin acting erratically, it's best to leave the water.
Be cautious if there are dolphins present.
Don't swim near people who are fishing.
When in doubt, stick to beaches with lifeguards and follow their instructions.
Everything You Need to Know About snuba in Oahu
Follow the Leave No Trace Principles
Hawaii is a paradise, and it's important to respect the environment when you're visiting. That's why it's essential to follow the Leave No Trace principles when snuba'ing in Oahu. Here's what you need to know:
Respect wildlife: Marine creatures are wild animals, so don't chase after them or touch them. The National Oceanic and Atmospheric Administration recommends staying 50 yards away from dolphins, sea turtles, and seals in the water and 100 yards away if you spot a whale. Don't feed any sea creatures either, as it can mess up the natural ecosystem.
Leave what you find: Don't touch anything and leave everything, including shells, where you found it. There are some snails that have a harpoon-like tooth filled with deadly venom, so it's best to stay away from them.
Dispose of waste properly: Collect all wrappers, bottles, and other waste and throw it away properly. Rubbish left on the beach can get swept into the ocean by the rising tide, which can harm marine life.
Protect the Coral Reef
Coral reefs are vital for the marine life ecosystem, providing protection to coastlines from storms and erosion, and acting as a source for new medicines. Unfortunately, coral reefs around the world are dying due to global warming, but you can do your part to preserve it!
Don't touch, kick, or stand on the coral: Coral may look like a rock, but it's actually made up of millions of tiny microorganisms. Even touching coral can break off one of these microorganisms, which can take years to grow back.
Use reef-safe sunscreen: Some chemicals found in common sunscreens can cause coral bleaching, damage the DNA of corals, and increase abnormal growth and deformities within reefs. Make sure to use reef-safe sunscreen, like this one, which doesn't include the nasty -enes and -ones chemicals.
What to Pack for an Epic Snuba Adventure in Oahu
Reef-Safe Sunscreen
Don't get burnt, and don't kill coral reefs – bring along some reef-safe sunscreen to protect yourself from the Hawaiian sun.
Wetsuit Shirt
The water temperature in Oahu is usually pretty pleasant, ranging from 76°F (24.4°C) to 81°F (27.2°C). But if you're a bit of a cold-weather wimp like me, it can still feel a bit chilly. That's why I got this wetsuit shirt – it helps keep me warm so I can stay in the water longer and have an awesome time snorkeling.
GoPro
A GoPro is the perfect way to capture your snuba memories – it's waterproof up to 33 feet, small, lightweight, and versatile enough to take epic photos and videos.
Plenty of Water
Don't forget to bring along plenty of water to keep on the beach – between the hot Hawaiian sun and swimming against the tide, snuba can be more tiring than you'd think! We recommend giant Nalgene bottles – they're great for international vacations, RV trips, and, of course, snorkeling in Hawai'i.
Conclusion
If you're looking for a unique and exciting way to explore the waters of Oahu, Honolulu, and Waikiki, then snuba is the way to go! With its combination of snorkeling and scuba diving, you get the best of both worlds. Plus, you don't need to be a certified diver to do it. Just make sure you follow the safety guidelines and you'll be ready to SNUBA the day away! So don't be afraid to take the plunge and explore the depths of the ocean. Who knows, you might even find your own version of the legendary "Humuhumunukunukuāpuaʻa"!
Also read: these are the best places to snuba in Kauai
Joost Nusselder, the founder of Kauai Surf Report is a content marketer, dad and loves trying out new sports with everything surfing at the heart of his passion, and together with his team he's been creating in-depth blog articles since 2019 to help loyal readers with surfing and water sporting tips.