I love creating free content full of tips for my readers, you. I don't accept paid sponsorships, my opinion is my own, but if you find my recommendations helpful and you end up buying something you like through one of my links, I could earn a commission at no extra cost to you.
Learn more
Skimboarding is a fun activity for beginners and kids, but it can be hard to find the right board.
There are so many skimboards on the market that it's hard to know which one will work best for you. You want something lightweight, durable, and easy to use.
In this article, I'll introduce you to the best beginner skimboards on the market and why you don't need a lot of things the pros use right out of the gate.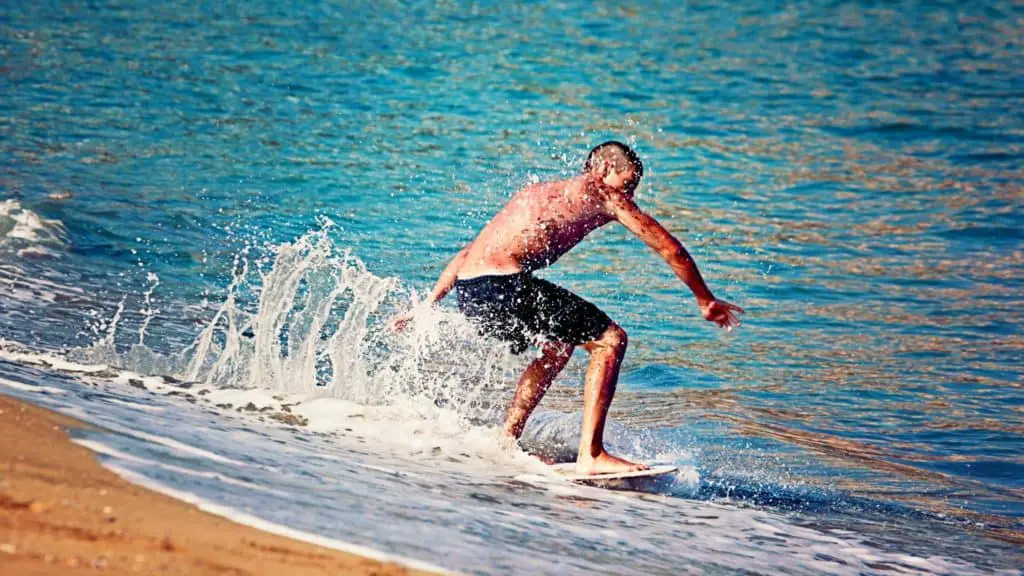 If you want to check out if skimboarding is for you, don't buy the absolute cheapest board you can, but take a look at this Bindy Australia board with grip and bag so you don't waste your money. If you take care of it, it can give you a lot of fun at the beach!
There are some more options, even expensive ones you could go out and buy. Let's look at them real quick and then I'll get into them some more:
A buyer's guide geared towards beginner skimboarders
Here's what you need and what you don't need as a beginner:
Lightweight material
It's important to find a skimboard that is lightweight so it doesn't put too much stress on your joints. You want something that is easy to carry and maneuver.
Thickness
The thickness of the board will affect how stable it is. A thinner board is more maneuverable but less stable, while a thicker board is the opposite. You want to find a balance that works for you.
A thicker board will get you a lot farther when practicing in the beginning.
Size
The size of the skimboard also matters. A smaller board is easier to control, but a larger board can give you more speed and stability. Again, it's important to find a balance that works for you.
With size, it's more about your body weight than anything else though.
We have a complete guide on skimboard sizing here on the site
Durable construction
Skimboarding is an activity that takes a lot of abuse, so be sure the board you choose will hold up over time. A good beginner board will be made of durable materials that can take a beating.
Foam core
The foam core is the part of the board that makes it buoyant. It's important to find a board with a high-quality foam core that will keep you afloat and with a durable resin or fiberglass coating.
All that's well and good, but they are a lot more expensive and not entry level models at all!
If you're unsure if you're going to stick it out with this sport, keep practicing and get good at it, don't but an expensive board like that.
Eva foam core with carbon fiber exterior, you probably don't need all that to see if this, kind of tough sport to get good at, is something for you.
Easy to maneuver
You don't want a board that is difficult to control. Choose something that is easy to turn and won't get away from you. But, you probably don't want to sacrifice stability for maneuverability.
It's hard enough to stay on the board when you have a thick and stable one, let alone when you're trying to use what the pros go out on to nail their wave riding in the shore breaks.
Stick with a very buoyant board and you'll stick to practicing much more than with a board you keep falling off from.
Affordable
Don't spend a fortune on your first skimboard. You can find a great beginner board without breaking the bank. Many of the top brands offer entry-level boards that are perfect for beginners.
Look for a sale, too. You can often find beginner boards on sale during the off-season.
In short, you don't need to spend a lot of money on your first board. You can find a great beginner board for under $100. But, if you're serious about the sport, you'll eventually want to upgrade to a better board.
Best skimboards for beginners reviewed
Best overall skimboard for beginners: BINDY Australia 41 Inch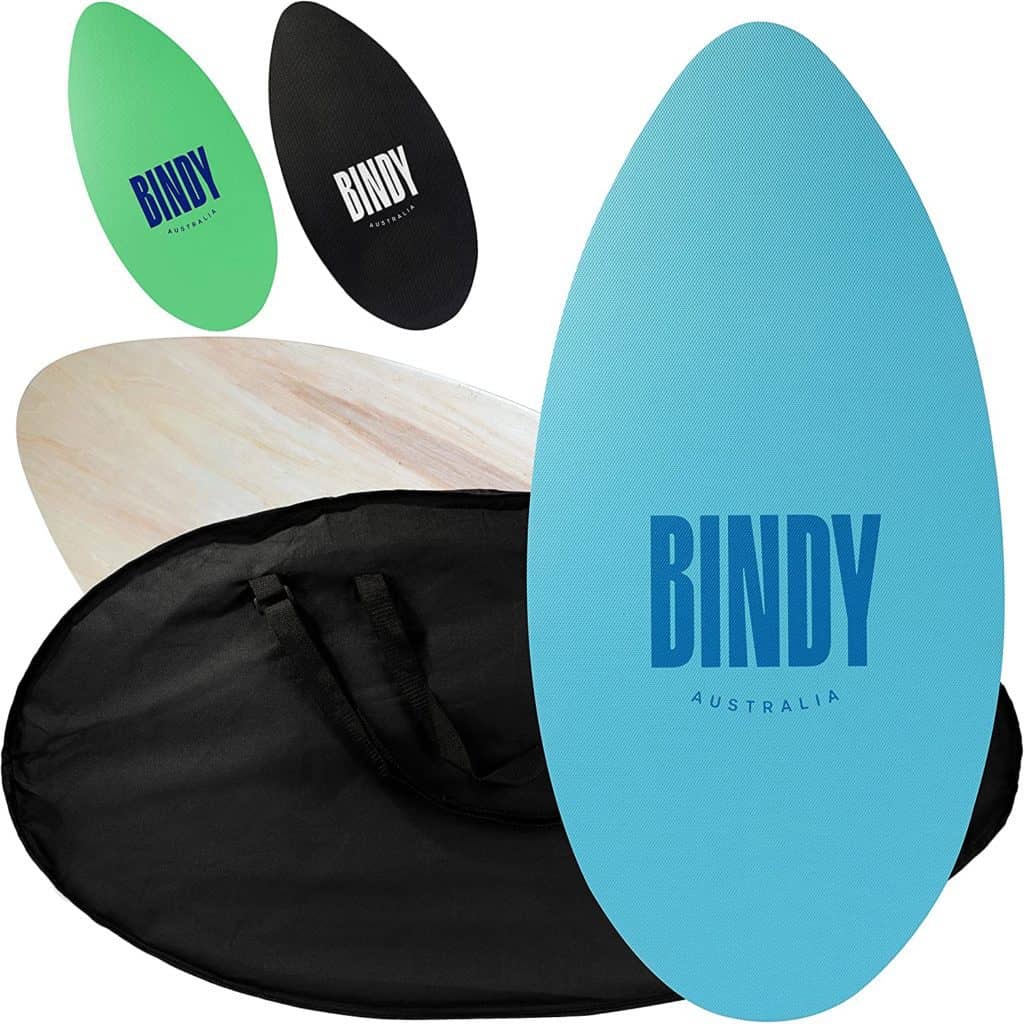 If you're looking for a beginner-friendly skimboard that is great for both urban and beach boarding, the BINDY Australia 41 Inch is our top pick.
This board is designed with a shape that is perfect for beginners and comes in a variety of colors. It also comes with a bonus board bag, so you don't have to go hunting for one separately.
Master this board in the shallows before taking on bigger waves!
It's great for beginners because:
you get the bonus bag so you don't have to go chase after that
it has grip on the board already, so you don't have to worry about how to wax your board or go and buy some skimboard grip tape to put on top.
It's a ready-to-go board you can take to the beach tomorrow and start riding.
It is just a laminated wood board though, just like some of the others on our list here. It seems to be a solid wood choice though and it has a nice foam deck on a wider board that can give you lots of balance.
Check prices and availability here
Best budget skimboard for beginners: Waveline Neon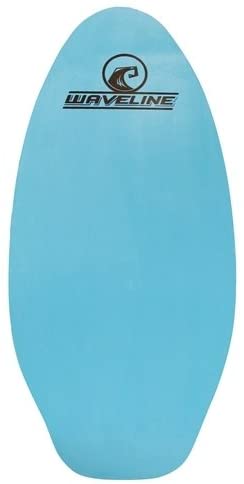 If you're looking for a great beginner board on a budget, the Waveline Neon is our top pick. This board is made with durable materials and comes in a variety of colors. It's also lightweight and easy to maneuver, making it perfect for beginners.
It's what you could expect for the price though. Some people say the board splits after only a few uses, but as with any, you have to take care of your skimboard.
With a cheap model like this, the only thing is you have to take care of it BEFORE you start using it the first time, adding the extra protection of skimboard wax to the top and sides so even this budget model can give you a bit of fun for a long period of time.
Best beginner skimboard for kids: South Bay Board Co. 41″ / 36" Skipper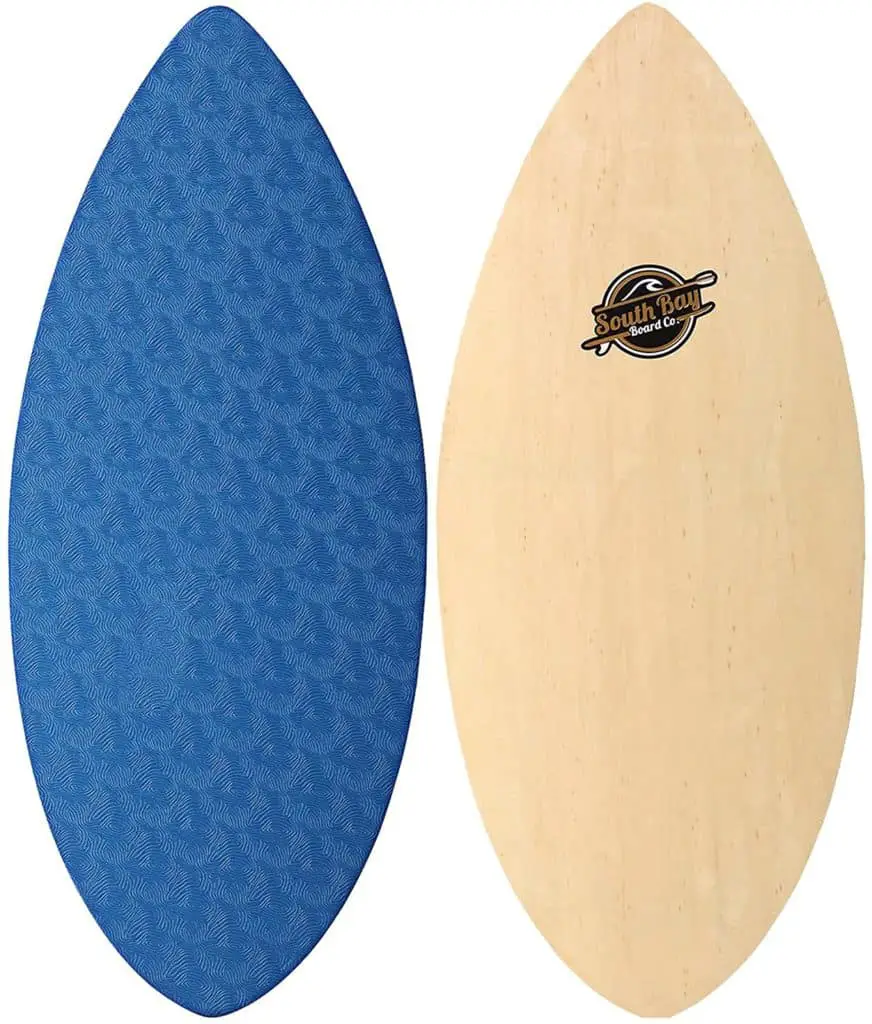 Value beginner skimboards for children to learn with.
The South Bay Board Co. 41″ / 36" Skipper is a great entry-level board that will teach your little ones the ropes of skimboarding without breaking the bank.
The board is made of not really very durable wood, but it does feature a textured surface for added grip.
The only downside to this board is that the wood striping on the bottom may start to come off after extended use in sand. But overall, it's a great beginner board for kids.
Best foam skimboard for beginners: Wavestorm Foamcore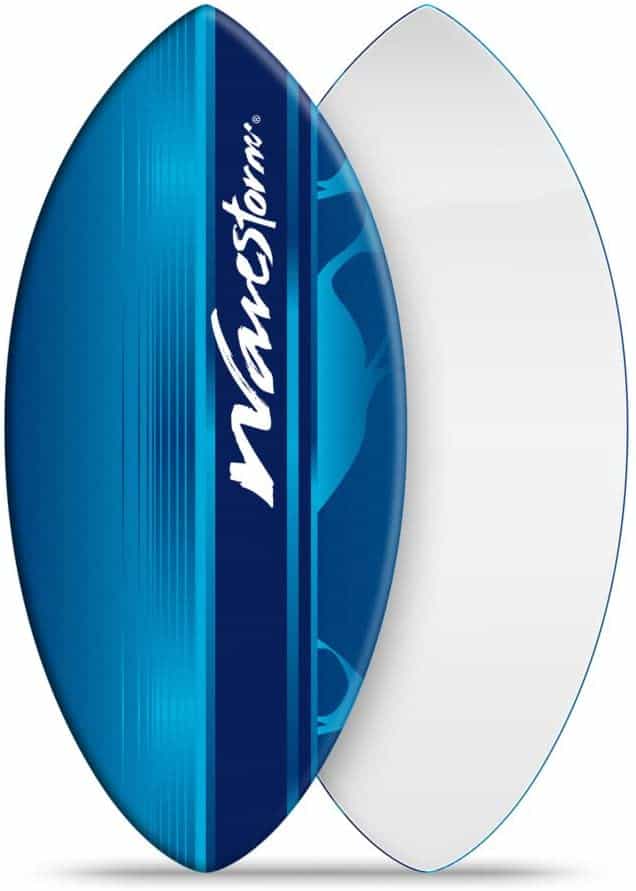 This foamcore skimboard is best for beginners who want to try their hand at wave skimming.
It has a little more weight than the others we've reviewed here, and that gives it the stability but also buoyancy to get onto the deeper water more easily and start catching those waves.
Plus it has a pin shaped tail to cut through the water so you wont lose speed.
The foam material also makes it a little more durable than the wooden beginner boards and it's made with quality materials throughout.
So, if you're looking for a beginner board that is durable and stable, the Wavestorm Foamcore skimboard is the best pick.
Most durable beginner skimboard: Zap Lazer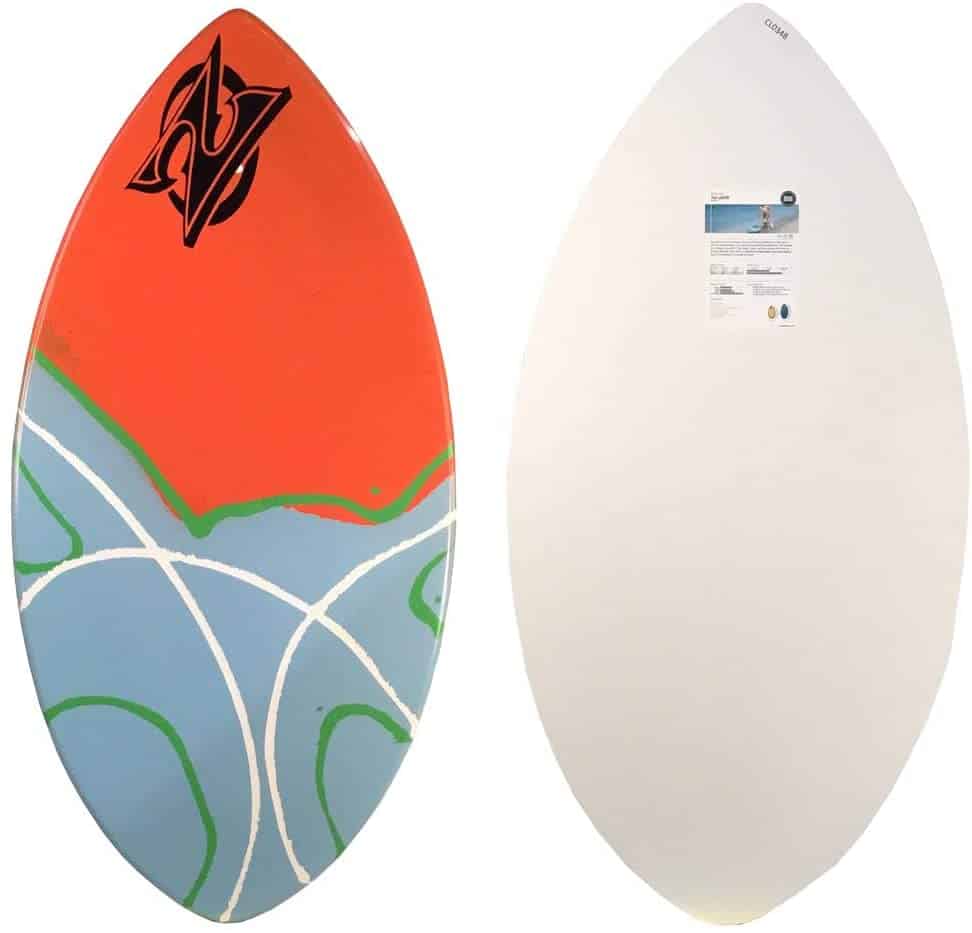 The Zap Lazer is one of the most durable beginner skimboards on the market. It's made with a tough and lightweight polypropylene material that can take a beating.
It's also designed with a beginner-friendly shape that makes it easy to maneuver. And, it comes in a variety of colors so you can find the perfect one to match your style.
If you're looking for a durable beginner board that will last you for years, the Zap Lazer is the best pick.
Don't be fooled though by its beginner-friendly status. This board is not cheap!
Conclusion
Finding the right beginner skimboard for your needs can be difficult. Luckily, we've done all of the research and compiled a list of some great beginner boards to help you get started!
Whether you prefer foam or wood, budget-friendly options or more expensive ones, there is something on this list that will fit your specific situation.
Joost Nusselder, the founder of Kauai Surf Report is a content marketer, dad and loves trying out new sports with everything surfing at the heart of his passion, and together with his team he's been creating in-depth blog articles since 2019 to help loyal readers with surfing and water sporting tips.