I love creating free content full of tips for my readers, you. I don't accept paid sponsorships, my opinion is my own, but if you find my recommendations helpful and you end up buying something you like through one of my links, I could earn a commission at no extra cost to you.
Learn more
Snuba is a fantastic alternative to scuba diving that doesn't require extensive training or gear. However, finding the best snuba system can be challenging.
After researching the top-rated systems, I've determined that this Blu3 Nemo system is the best overall. It's user-friendly, lightweight, and features a lengthy hose for more extended dives. Additionally, it has a quick release valve for emergency situations.
In this article, I'll be discussing the best snuba systems available and assist you in selecting the perfect one for your needs.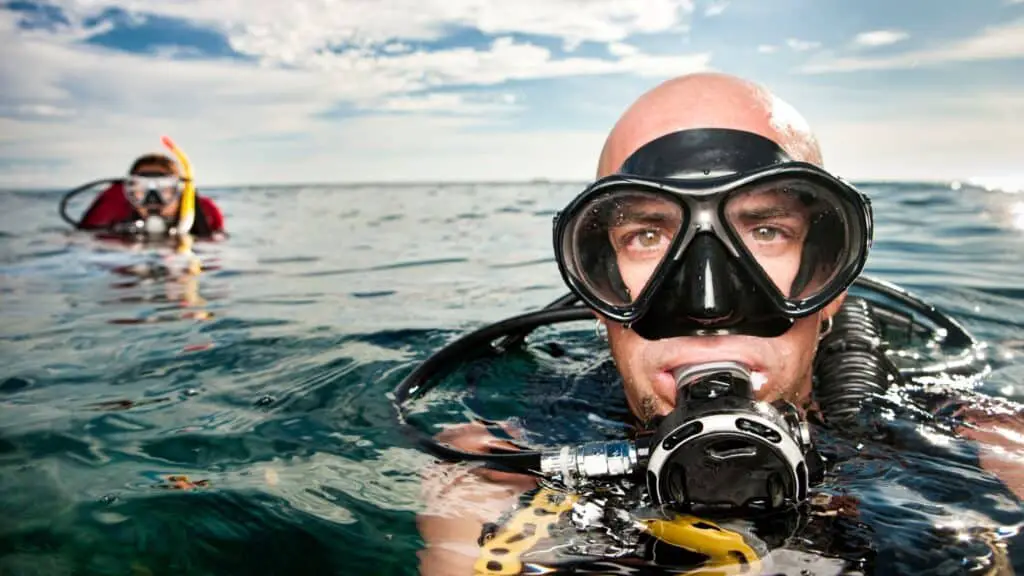 Let's first look at the top results real quick. Then I'll go into each of these in more detail:
What to Consider When Choosing a Snuba System
When it comes to buying a snuba system, there are a few key features to look for to ensure that you get the best possible experience. Here are some things to consider:
Safety: Safety should always be a top priority when buying any water-related equipment. Look for a snuba system that has safety features such as a pressure gauge, a safety release valve, and a quick-release harness.
Comfort: You'll be wearing your snuba system for extended periods, so it's important to choose one that is comfortable. Look for a system that has adjustable straps and a comfortable mouthpiece.
Size: Snuba systems come in different sizes, so it's important to choose one that fits you well. Make sure to measure yourself before making a purchase to ensure that you get the right size.
Ability: Consider your ability level when choosing a snuba system. If you're a beginner, look for a system that is easy to use and has a low air supply requirement. If you're more advanced, you may want to look for a system with more advanced features.
Battery Life: If you're planning on using your snuba system for extended periods, make sure to choose one with a good battery life. This will prevent you from running out of air while you're underwater.
Traditional vs. Advanced Snuba Systems
There are two main types of snuba systems: traditional and advanced. Here's what you need to know about each:
Traditional: Traditional snuba systems are simple and easy to use. They consist of a regulator, a hose, and a floatation device. These systems are great for beginners or those who are looking for a simple, no-frills experience.
Advanced: Advanced snuba systems have more features and are designed for more experienced users. These systems may include things like a dive computer, a longer hose, and a more advanced regulator. They're also typically more expensive than traditional systems.
Is it Worth the Money?
Snuba systems can be a bit pricey, so it's important to decide whether or not it's worth the investment. Here are some things to consider:
How often will you use it? If you're only planning on using your snuba system once or twice a year, it may not be worth the money.
How much do you value comfort and safety? If comfort and safety are important to you, then investing in a good snuba system is definitely worth the money.
Have you tested it out? Before you buy a snuba system, it's a good idea to test it out to make sure that it's the right choice for you.
Construction and Lightweight
The construction and weight of your snuba system are also important factors to consider. Here's what you need to know:
Construction: Look for a snuba system that is well-constructed and made from high-quality materials. This will ensure that your system lasts for a long time and can withstand the wear and tear of regular use.
Lightweight: A lightweight snuba system is easier to carry and maneuver underwater. Look for a system that is lightweight but still durable and well-constructed.
Top 4 Best Snuba Systems Reviewed
Best overall snuba system: BLU3 Nemo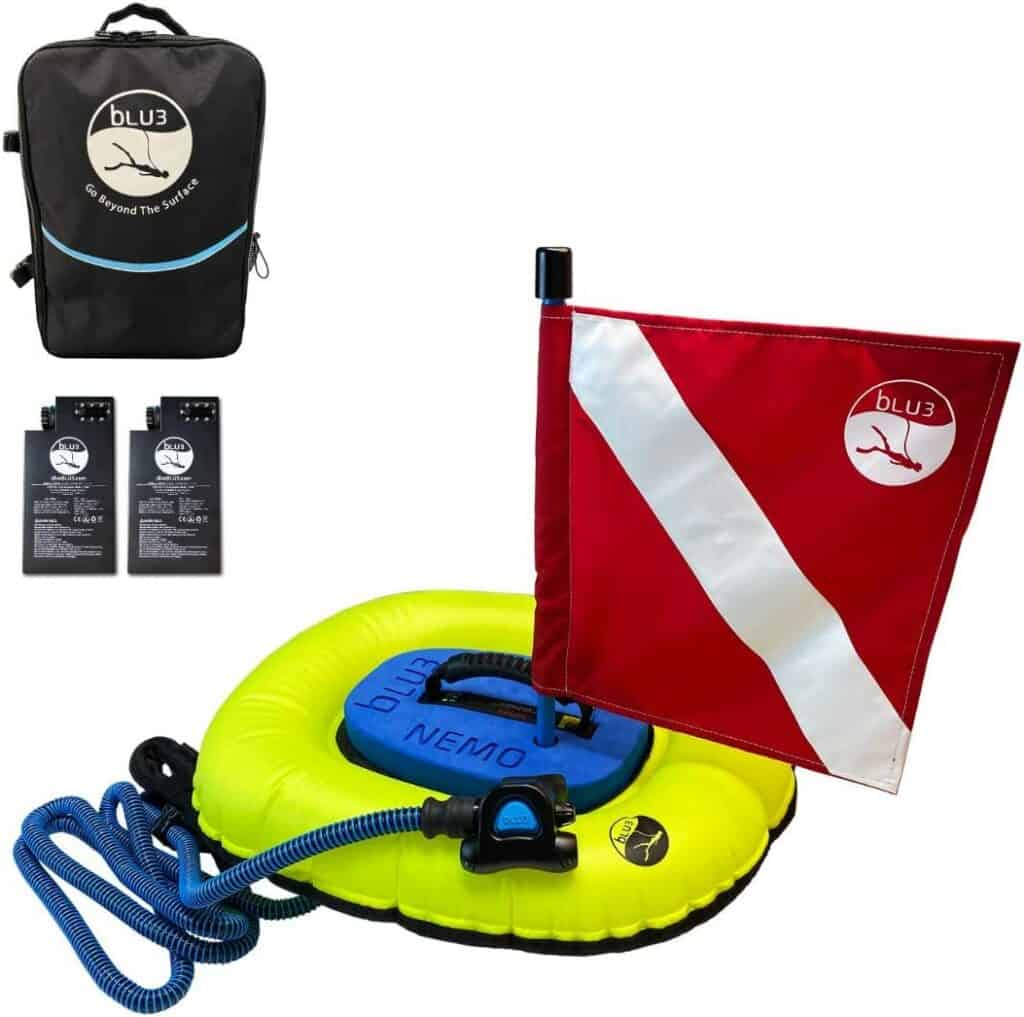 As a proud owner of the BLU3 Nemo Dive System, I can confidently say that this product has revolutionized my diving experiences. The ultra-portable design, weighing less than 10 pounds, has made it incredibly easy for me to take it on all my adventures. The fact that it is assembled in Florida, United States, gives me confidence in its quality and durability.
The BLU3 online dive training course provided me with essential knowledge and safety guidelines, ensuring that I was well-prepared for my underwater excursions. The rechargeable easy-swap battery has been a game-changer for me, allowing me to dive up to 10 feet without worrying about running out of air. Moreover, the battery charger supports 220V, making it perfect for my trips to Europe.
One of the best aspects of the Nemo Dive System is that there's nothing extra to buy. I simply use it with my own free diving gear, and I'm good to go. The battery is also airplane-friendly, as it is under the 100 Wh limit, which means I can easily take it with me on my travels.
During my dives, I've learned the importance of not holding my breath to make the battery/air supply last longer. This crucial safety tip was emphasized in the training course, and I highly recommend taking it before purchasing the system.
The only downside I've encountered is the limited distribution when ordering the product. However, I found that contacting the manufacturer directly can sometimes resolve shipping issues to certain locations.
In conclusion, the BLU3 Nemo Dive System has been a fantastic addition to my diving experiences. Its portability, ease of use, and reliable performance make it a must-have for any diving enthusiast. If you're considering purchasing one, I wholeheartedly recommend giving it a try.
Best budget snuba system: GOYOJO Scuba Dive System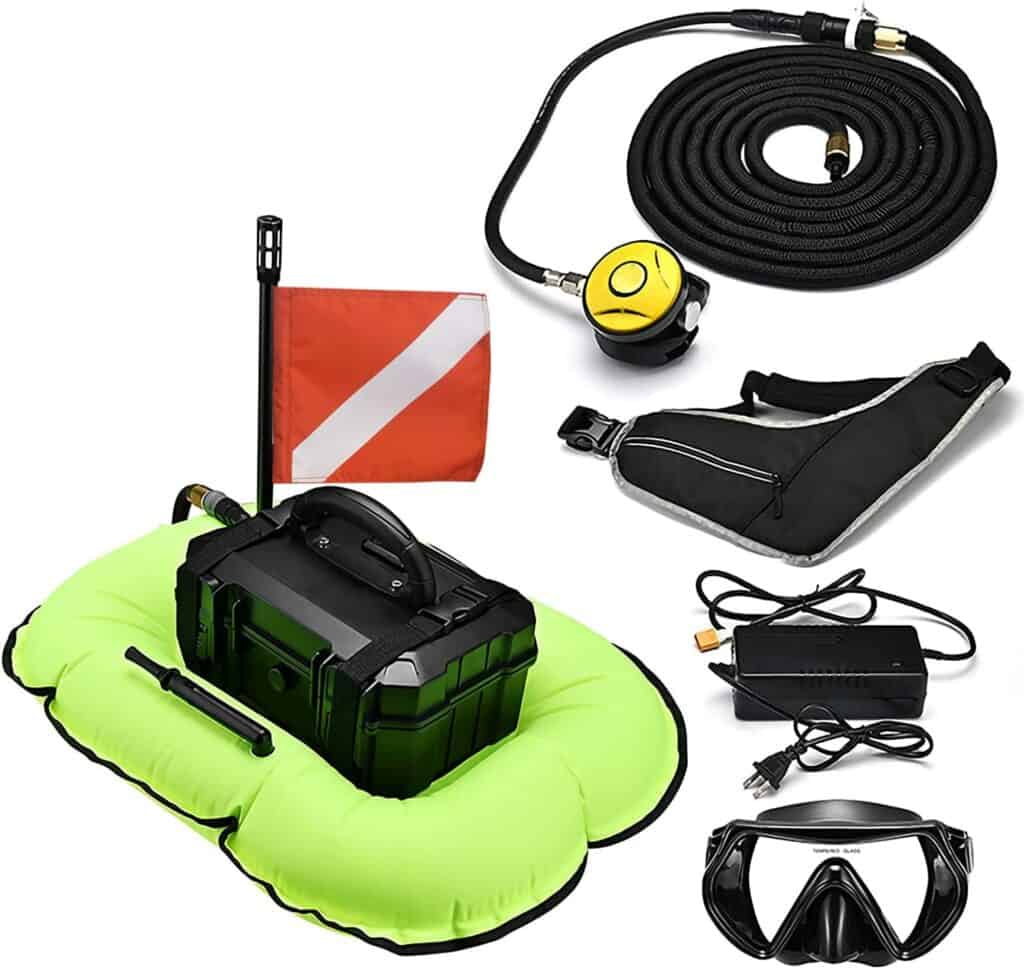 After using the GOYOJO Scuba Dive System 5.5 Hours Rechargeable Scuba Diving Tank with 10m Hose & Diving Breathing Regulator Detachable Scuba Machine, I can confidently say that this product has exceeded my expectations. As an avid diver, I was thrilled to find a system that not only allowed for extended diving time but also provided a more powerful and comfortable experience.
The enhanced version Q4 offered a remarkable 5.5 hours of diving time, which was a significant improvement compared to the standard 3-hour model. This allowed me to fully immerse myself in the underwater world without constantly worrying about running out of air.
I was also impressed by the increased power of the Q4, with its 240W rating providing a noticeably stronger performance than the standard 180W model. This translated to an air supply flux of 56L per minute, making my dives more comfortable and enjoyable due to the improved air circulation.
One of the standout features of the GOYOJO Scuba Dive System was the increased diving depth. The Q4 allowed me to explore depths of up to 15m, which was a significant upgrade from the standard model's 10m limit. This opened up a whole new world of underwater exploration, making each dive more exciting and rewarding.
The battery life of the Q4 was another major selling point. With a capacity of 80000mAH, I was able to enjoy longer diving sessions without the constant worry of running out of power. The charging process was straightforward, and the 10-hour charge time was a small price to pay for the extended battery life.
Despite its powerful features, the GOYOJO Scuba Dive System remained portable and lightweight. The compact size and 5.8kg weight made it easy to carry and store, allowing me to take it on all my diving adventures without being weighed down by cumbersome equipment.
In conclusion, the GOYOJO Scuba Dive System 5.5 Hours Rechargeable Scuba Diving Tank with 10m Hose & Diving Breathing Regulator Detachable Scuba Machine is a game-changer for recreational diving and fishing enthusiasts. Its extended diving time, increased power, and greater diving depth make it a must-have for anyone looking to elevate their underwater experiences.
Best air compressor: CRONDA Base Upgraded Ventilator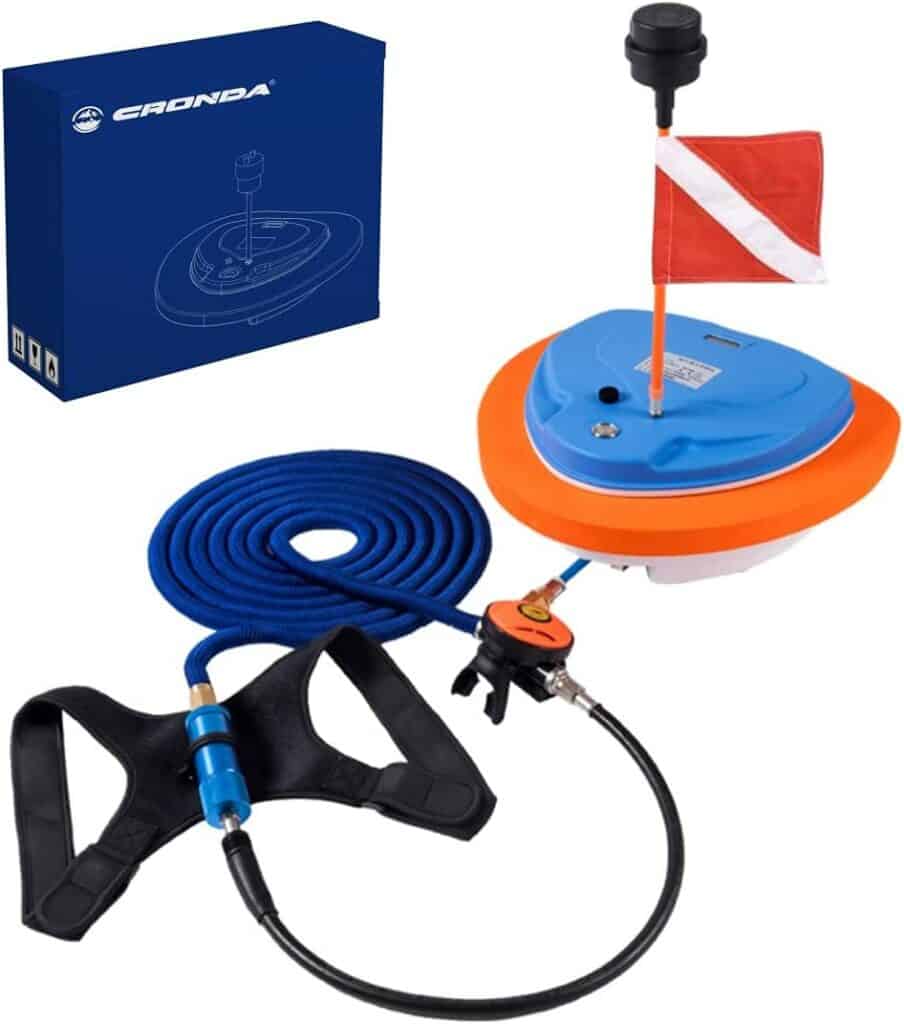 As an avid underwater enthusiast, I recently had the pleasure of testing the CRONDA Base Upgraded Scuba Diving Ventilator Tankless Diving System. This innovative piece of equipment has truly revolutionized my diving experience, allowing me to explore the depths without the constraints of traditional oxygen tanks.
The upgraded diving system boasts lower noise and greater air output, making it the perfect companion for snorkelers looking to venture beyond the surface. With a compact design that supports one diver up to 39.4ft/12m, this system is ideal for ocean explorers, treasure hunters, underwater photographers, and even boat owners or kayakers.
One of the standout features of this diving system is its impressive 3.5-hour battery life. The lithium battery inside the device eliminates the need for refilling oxygen cylinders, making it a more convenient option for underwater adventures.
The powerful engine provides 57L of oxygen per minute, ensuring that I had ample air supply during my dives. This allowed me to breathe freely underwater and focus on enjoying the experience rather than worrying about my oxygen levels.
Diving with the CRONDA system was a liberating experience. Traditional oxygen cylinders can be cumbersome and require constant refilling, but this equipment allowed me to dive without feeling weighed down. My body felt free and unconstrained in the water, and when paired with a hunting spear and underwater scooter (here are the best ones by the way), the fun was truly unparalleled.
While the CRONDA system is an exceptional piece of equipment, I did encounter some difficulties when it came to after-sale service and warranty issues. The company is based in China, and I struggled to receive a response from them regarding my concerns. This is an area where I believe the company could improve.
Overall, the CRONDA Base Upgraded Scuba Diving Ventilator Tankless Diving System has been a game-changer for my underwater adventures. The convenience, freedom, and powerful performance it offers make it a must-have for any diving enthusiast. However, potential buyers should be aware of the potential challenges when it comes to after-sale service and warranty issues.
Best professional snuba system: AQUAROBO 619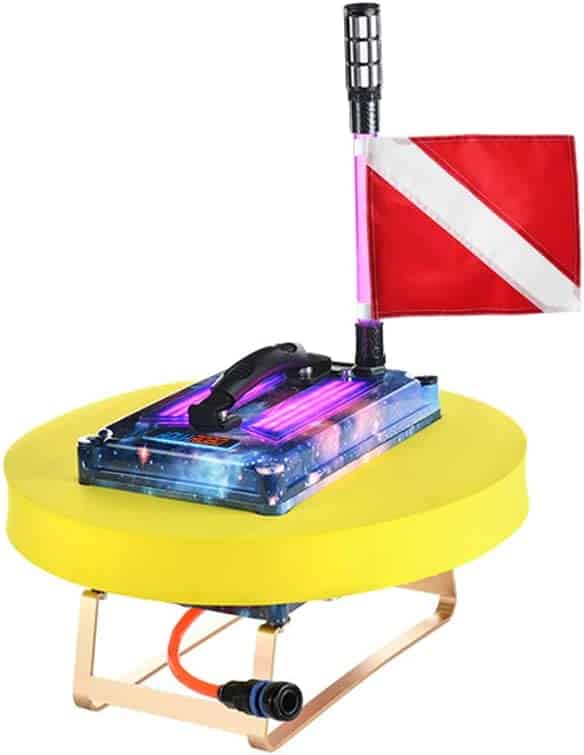 As an avid underwater adventurer, I have tried my fair share of diving equipment, but nothing has quite impressed me like the AQUAROBO 619 Diving Ventilator. This portable, rechargeable scuba tankless diving system has completely revolutionized my underwater experiences, from boat bottom barnacle cleaning to underwater gold panning and treasure hunting.
The first thing that caught my attention was the large pure air supply. The dual air intake design provides a whopping 76L/Min of air, ensuring smooth and comfortable breathing throughout my dives. The oil-free electric motor and four filter systems guarantee healthy, natural, and pure air, making my underwater adventures all the more enjoyable.
With the AQUAROBO 619, I was able to dive up to 59 feet for a maximum of 5 hours, thanks to the stretchable hose and new water coolant technology. This allowed me to explore deeper and longer without worrying about the motor overheating. However, for optimal breathing, I found that staying around 30 feet was the sweet spot.
The durable battery life of this air buddy diving system is truly impressive. Powered by a 75 Ah battery, it can be recharged up to 2000 times, providing consistent performance even after 3 years of regular use. The battery indicator is a great addition, giving me peace of mind while diving.
Safety is always a top priority, and the AQUAROBO 619 does not disappoint. The 360° waterproof and corrosion-resistant design ensures that the equipment can withstand small waves and harsh underwater conditions. The high-level chip control adds an extra layer of safety and intelligence to my diving activities.
Although the AQUAROBO 619 is suitable for various underwater activities, I highly recommend using it in freshwater areas like lakes or pools, or the shallow part of the ocean for the best experience.
The after-sale service and included accessories make this scuba tank an even better investment. From the diving ventilator and charger to the telescopic hose, strap, float, and various filters, everything I needed for a successful dive was included.
In conclusion, the AQUAROBO 619 Diving Ventilator has truly elevated my underwater adventures. Its large air supply, impressive depth capabilities, durable battery life, and safety features make it an essential piece of equipment for any underwater enthusiast. I highly recommend giving it a try – you won't be disappointed!
Conclusion
So, there you have it- the best snuba system for you is the Gooey Jo Scuba Dive System. It's a great value for money and you can use it for both diving and swimming. Plus, it's super easy to use and comfortable to wear. So, go ahead and buy it now! You won't regret it!
Joost Nusselder, the founder of Kauai Surf Report is a content marketer, dad and loves trying out new sports with everything surfing at the heart of his passion, and together with his team he's been creating in-depth blog articles since 2019 to help loyal readers with surfing and water sporting tips.