I love creating free content full of tips for my readers, you. I don't accept paid sponsorships, my opinion is my own, but if you find my recommendations helpful and you end up buying something you like through one of my links, I could earn a commission at no extra cost to you.
Learn more
Do you like the thrill of gliding across the water? Luckily, you don't have to wait to get to a lake, pond, or ocean to enjoy this fun sport.
An inflatable skimboard pool is the best way to skimboard anywhere.
The pool or track is inflatable so you can grab your skimboard and start riding whenever you want.
You can use all types of skimboards (see top 9 best ones here) to ride on this very shallow water. Fiberglass boards are lightweight and great for these smaller tracks.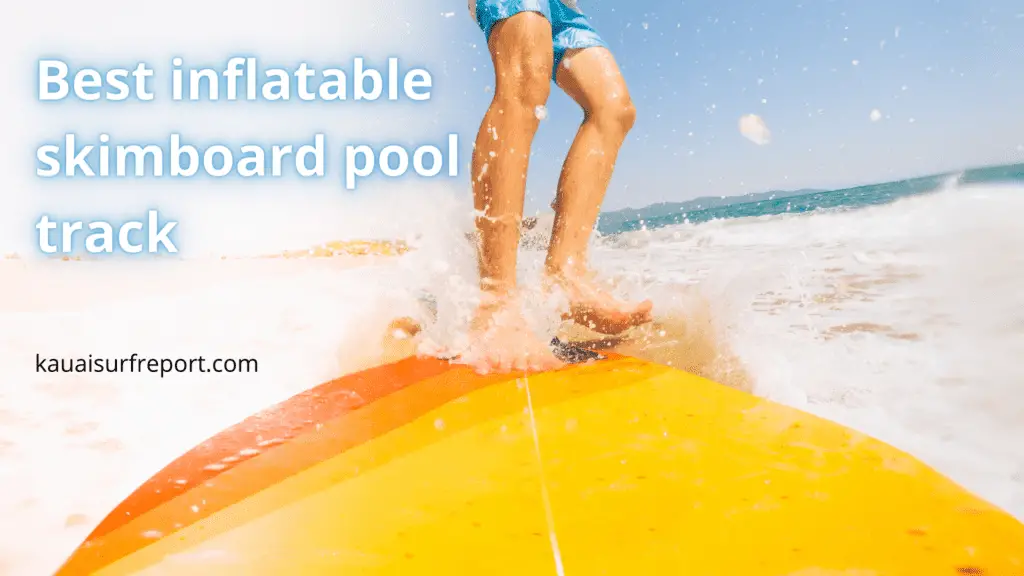 But, a wooden skimboard (like one of these) can be used too, just don't expect the same wave-riding experience. After all, this is a shallow PVC pool/track and it's usually no longer than 100 ft.
No matter your skill level, you can use your best skimboard to ride on this artificial pool.
I'll explain what the skimboard pool is and where you can use it!
What is an inflatable skimboard pool?
The inflatable skimboard track is also known as a skimboard pool and it refers to a long, shallow, and rectangular inflatable plastic pool.
It is relatively thin and filled with a thin layer of water so you can ride your skimboard on it in both indoor and outdoor locations.
The track should be placed right on top of a smooth surface and filled with a thin layer of water (approximately 10 cm).
It's not supposed to be filled with a lot of water because it shouldn't overflow.
This type of inflatable track is very easy to fill with air using an air pump and only takes a few minutes.
When you buy the pool, the manufacturer usually includes an air pump, a carrying bag, and a repair kit for the PVC.
The non-slip bottom of the PVC pool ensures the track doesn't move around and stays put while people are skimboarding on it.
Here's a group of riders having fun:
Basically, there aren't a lot of different types of inflatable skimboard tracks because they are all fairly similar. The shape is rectangular and the length varies.
What is an inflatable skimboard pool made of?
Usually, the inflatable skimboard is made of PVC tarpaulin which is a plastic material. This material is also fire-retardant.
PVC tarpaulin material is waterproof and doesn't get damaged easily.
However, as with all PVC inflatable objects, there's a risk that the poor pops and the air flows out.
Therefore, be sure to inflate it on a smooth surface with no jagged rocks, glass pieces, or other sharp objects nearby.
Where to set up inflatable skimboard pools and how to use them
You're probably wondering where the best place to set up your inflatable skimboard pool is. The good news is, you can use them indoors and outdoors, depending on where you want to ride.
This type of inflatable rectangular pool has a non-slip bottom so the track doesn't move around when you're riding on it.
It can be placed on grass, concrete, indoor floors and you can use it in the park, on the playground, and even on the beach.
It's the best solution for some fun in the water on hot summer days.
Here are some ideas for places where you can use your skimboard pool:
park
on grass
backyard
warehouse
indoor space
concrete
beach
These inflatable skimboard tracks are suitable for use by all ages and skill levels.
There's no weight capacity or limit and since the pool has about 10-20 cm of water inside, your skimboard will glide along pretty easily.
Indoor and outdoor skimboarding
The skimboard track is perfectly suitable for various occasions and can be used for events or as an addition to an existing playground.
Besides, this inflatable attraction can also be used indoors!
Skimboarders who don't want to wait for warmer weather to skimboard outside can opt for an indoor skimboard pool setup.
These indoor skimboard tracks can be very long – even 150 ft! They are filled with shallow water.
The riders can skimboard for fun or even try tricks since some indoor pools have obstacles in them. That way, skimboarding is more challenging if it's like an obstacle course.
Pay attention to the type of obstacles you use as you don't want to puncture the PVC.
Here's an example of riders on an inflatable skimboard pool in a warehouse. The track also has two obstacles and since it's very long, riders can practice tricks.
Check out this indoor inflatable track inside a warehouse:
But the great thing about a skimboard pool is that both kids and adults can use it and it's a good way to learn the basics of skimboarding before heading to the lake or ocean.
What to look for in an inflatable skimboard track
If you're looking for the best inflatable skimboard track, you need a pool that is made of sturdy, damage-resistant material and that's long enough to have room for skimboarding.
Your inflatable skimboard pool must have a non-slip bottom or else the pool will move around and then you can fall or injure yourself.
Also, there's a non-slip plastic part at the beginning of the track. This allows you to balance on the skimboard and start riding.
It also helps you pick up speed so you can perform tricks, especially if your track has some obstacles. The nonslip bottom also ensures optimal speed.
These obstacles are usually DIY or you can buy them separately and set them up once you've inflated the track.
Also, consider the size of your inflatable skimboard pool. The longer, (100 ft or more) the better because then you have enough room for tricks but also you get enough of a glide on the water.
If you're planning to use the track outside on the grass or on the beach, you can use a big track. If you only have a small backyard or a tiny indoor space, you can get a shorter track.
Choosing the right size board is important and there are several models on the market with different sizes. However, the shape is almost always rectangular.
On the other hand, the skimboard can have all kinds of fun colors so there are plenty of options.
Takeaway
So, if you're thinking about finding a good place to practice or learn skimboarding, you can get an inflatable skimboard pool and set it up in your backyard so you're always ready for some sliding.
This is a great way for kids and adults alike to practice good balance, good speed, and learn to maneuver and ride a skimboard.
Whether you're just learning with your first board or you already have an expensive carbon fiberboard, you can do some skimboarding almost anywhere.
Pro skimboarders can even use these inflatable tracks to teach beginners how to skimboard.
Joost Nusselder, the founder of Kauai Surf Report is a content marketer, dad and loves trying out new sports with everything surfing at the heart of his passion, and together with his team he's been creating in-depth blog articles since 2019 to help loyal readers with surfing and water sporting tips.