I love creating free content full of tips for my readers, you. I don't accept paid sponsorships, my opinion is my own, but if you find my recommendations helpful and you end up buying something you like through one of my links, I could earn a commission at no extra cost to you.
Learn more
Water zorbing is when you roll or bounce inside an inflatable sphere or tube. It's a lot of fun and can be done on lakes, rivers, and even the ocean! It's a great way to enjoy the great outdoors.
In this article, I'll tell you everything you need to know about water zorbing and how to do it safely.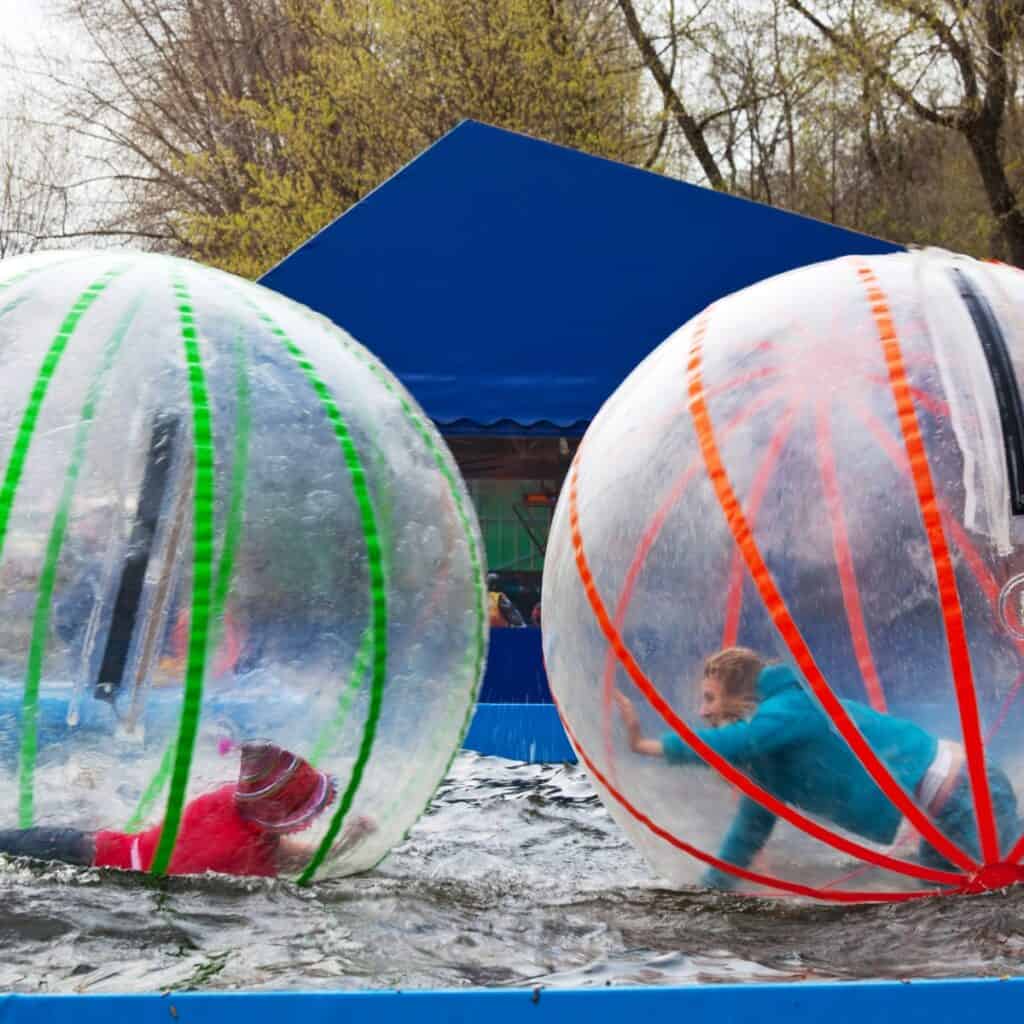 What's the Deal with Zorbing?
What is Zorbing?
Zorbing is an adrenaline-filled activity that involves rolling down a hill inside a giant inflatable ball. It's a great way to experience the thrill of a roller coaster without the need for a track or any other equipment.
Where Can I Go Zorbing?
If you're looking for a place to go zorbing, you're in luck! There are plenty of zorbing locations around the world, from the UK to New Zealand. You can even find zorbing parks in the US, where you can roll down a hill in a giant inflatable ball.
What Do I Need to Go Zorbing?
All you need to go zorbing is a giant inflatable ball, a hill, and a sense of adventure. You can rent a zorbing ball from a local zorbing park, or you can buy your own online. Once you have your ball, you're ready to go!
Is Zorbing Safe?
Absolutely! Zorbing is a safe and fun activity that can be enjoyed by people of all ages. As long as you follow the safety instructions provided by the zorbing park, you'll be sure to have a great time.
Exploring Different Types of Water Walking Balls
The Classic Zorb Ball
The classic Zorb Ball is a dual-layered inflatable ball that can be used for both water walking and downhill rolling. It's a great way to have some fun in the water!
The Single Layer Water Ball
This type of water walking ball is made of either PVC material or Thermoplastic Polyurethane (TPU). It's smaller and cheaper than the classic Zorb Ball, making it a popular choice for theme parks and pools.
The Zorbing Cylinder
If you're looking for something a bit different, the Zorbing Cylinder is a great option. It's similar to the Zorb Ball, but it's a cylinder shape and can fit two people inside. You can roll around the water surface for some fun!
Water Zorbing with a Jet Ski
If you're feeling adventurous, why not try water zorbing with a jet ski? You'll be dragged along the water while inside the giant inflatable ball – it's an awesome experience! Just make sure you don't confuse it with aquazorbing, which is a different activity altogether.
A Walk on Water: Our Aqua Park Experience
Getting Used to the Unusual Feeling
At first, it was a bit of a challenge to get used to the feeling of rolling around on water. But once we got the hang of it, it was a blast! We felt the coolness of the water, but never got wet. Plus, the transparent sphere made it feel like we were actually walking on water.
The Spectators
The spectators had a great time watching us try to get the hang of it. We must have looked pretty clumsy at the start, but it was all part of the fun.
Zorbing: Rolling Downhill in a Ball
What is Zorbing?
Zorbing is an exciting sport or recreational activity where you roll downhill inside a large, transparent plastic ball. It's also known as globe-riding, sphereing, orbing, and can be done on a gentle slope or even on a level surface, allowing for more control. Some operators have even constructed inflatable, wooden, or metal ramps for those without hills. Plus, due to the buoyant nature of the orbs, Zorbing can also be done on water!
Types of Orbs
When it comes to Zorbing, there are two types of orbs: harnessed and non-harnessed. Non-harnessed orbs can carry up to three riders, while the harnessed orbs are made for one to two riders.
History of Zorbing
The first zorbing site was established in Rotorua, New Zealand, by ZORB Ltd. in the early 1990s. However, a similar device was reportedly debuted in 1973 in Russia. In the early 1980s, the Dangerous Sports Club constructed a giant sphere (reportedly 23 metres or 75 feet across) with a gimbal arrangement supporting two deck chairs inside. This device was eventually cut up for scrap. Human spheres have been depicted in mass media since 1990 when the Gladiators event "Atlaspheres" first aired, albeit with steel balls.
Facilities
You can find Zorbing facilities in the United Kingdom, New Zealand, Sweden, Estonia, Canada, the Czech Republic, Poland, the Slovak Republic, Switzerland, Japan, Kochi in India, Phuket in Thailand, and Slovenia. In the United States, there are facilities in Pigeon Forge, Tennessee, Wisconsin Dells, Wisconsin, Amesbury, Massachusetts, and Roundtop Mountain Resort, Lewisberry and Pennsylvania.
Records
The Guinness Book of World Records recognises five sphereing records:
The longest distance travelled in a single roll is held by Steve Camp, of South Africa, who traveled 570 meters (1,870 ft).
The fastest sphereing ride is held by New Zealand's Keith Kolver, who reached a speed of 52 kilometers per hour (32 mph).
The fastest time to complete a 100-meter (330 ft) course is held by New Zealand's Andrew Akers, who completed the course in 14.2 seconds.
The longest time spent in a sphere is held by New Zealand's Chris Allum, who spent three hours and 40 minutes inside a sphere.
The most people in a sphere is held by the UK's Zorbing Down Under, which managed to fit seven people in a single sphere.
Injuries and Deaths
Fortunately, there have been no reported injuries or deaths due to Zorbing. However, it's important to remember to always follow the safety guidelines and instructions provided by the operators.
Zorbing: A Brief History
The Early Days
It all started back in 1973, when a similar device made its debut. Fast forward to the early 80s, and the Dangerous Sports Club created a giant sphere, reportedly 75 feet across, with two deck chairs inside. Sadly, it was eventually cut up for scrap.
Zorbing Comes to Life
In 1994, three investors formed ZORB Limited in New Zealand, and set out to create suitable spheres for humans and commercialize the activity. By 2001, Zorbing had made it into the Concise Oxford English Dictionary, defined as "a sport in which a participant is secured inside an inner capsule in a large, transparent ball which is then rolled along the ground or down hills."
The First Zorbing Adventure
The first person to ever try Zorbing had an unforgettable experience. They rolled their way through a field, only to hit some cattle!
Since then, Zorbing has been featured in many events, such as:
Chew Stoke Harvest Home in 2010
World Gymnaestrada 2019 in Dornbirn, Vorarlberg, Austria
It's safe to say that Zorbing has come a long way since its humble beginnings.
The Shock-Absorbing Orb
What is it?
The orb is a lightweight, flexible plastic ball, double-sectioned with an air layer in between. It's like a water walking ball, but with an extra layer of protection. It's about 3 metres in diameter and has straps to keep the rider in place.
How Does it Work?
The orb is made up of two sections, connected by small nylon strings. Inside, there's a 50-60 cm air cushion to absorb shocks. The plastic is 0.8 mm thick and the entrances are tunnel-like.
What Can You Do With It?
You can walk around in the orb, or get tossed about by its rolling motion. It's a great way to have fun and stay safe at the same time. Plus, it's an awesome way to show off your skills!
The Dangers of Zorbing
Injuries
Though the cushioning design of the orbs prevents serious injuries, you can still get some light injuries from colliding with objects or tripping while the orb is rolling down an incline. Bruises and grazes are common, but severe injury is rare.
Deaths
Unfortunately, there have been some cases of fatalities due to Zorbing. Here are some of the most notable:
In June 2009, a teacher died and a pupil was severely injured in the Czech Republic while zorbing.
In January 2013, a man died from a broken neck and another was badly injured when the Zorb they were in rolled out of control down a mountain in Dombay, Russia.
In December 2021, some of the children injured or killed by the Hillcrest Primary School Tragedy were in Zorbs that were launched into the air by a gust of wind.
What's the Difference Between Water Zorbing and Aqua Zorbing?
Water Zorbing
Water zorbing is a fun sports activity that involves an oversized, expandable water walking ball. It's an easy way to roll around in a swimming pool, ocean, or other water source. Here's what you need to know:
It's a globe-like structure that you can enter and then roll around in.
It's made of soft PVC or TPU and is filled with air for your safety.
Aqua Zorbing
Aqua zorbing is a type of downhill zorbing that involves pouring water into the inner sphere. Here's what you need to know:
You'll roll around spontaneously inside the giant ball.
It'll travel down a slope at tremendous speeds.
It's made of soft PVC or TPU and is filled with air and water for your safety.
Conclusion
If you're looking for a unique and fun way to enjoy the water, zorbing is a great option. It's a thrilling experience that you can't find anywhere else. Whether you choose to go alone or with a friend, you'll be sure to have a blast. Just make sure to follow the safety guidelines and use the proper equipment. So don't wait any longer, grab your friends and go water zorbing today!
Joost Nusselder, the founder of Kauai Surf Report is a content marketer, dad and loves trying out new sports with everything surfing at the heart of his passion, and together with his team he's been creating in-depth blog articles since 2019 to help loyal readers with surfing and water sporting tips.