I love creating free content full of tips for my readers, you. I don't accept paid sponsorships, my opinion is my own, but if you find my recommendations helpful and you end up buying something you like through one of my links, I could earn a commission at no extra cost to you.
Learn more
Looking for a waterproof backpack? You're in luck!
In this blog post, we will review five of the best waterproof backpacks on the market and provide tips on how to choose the right one for your needs.
Whether you're looking for a backpack to take on your next outdoor adventure or you need something waterproof to protect your belongings during a rainstorm, we've got you covered.
Keep reading for more information on what to look for when shopping for a waterproof backpack!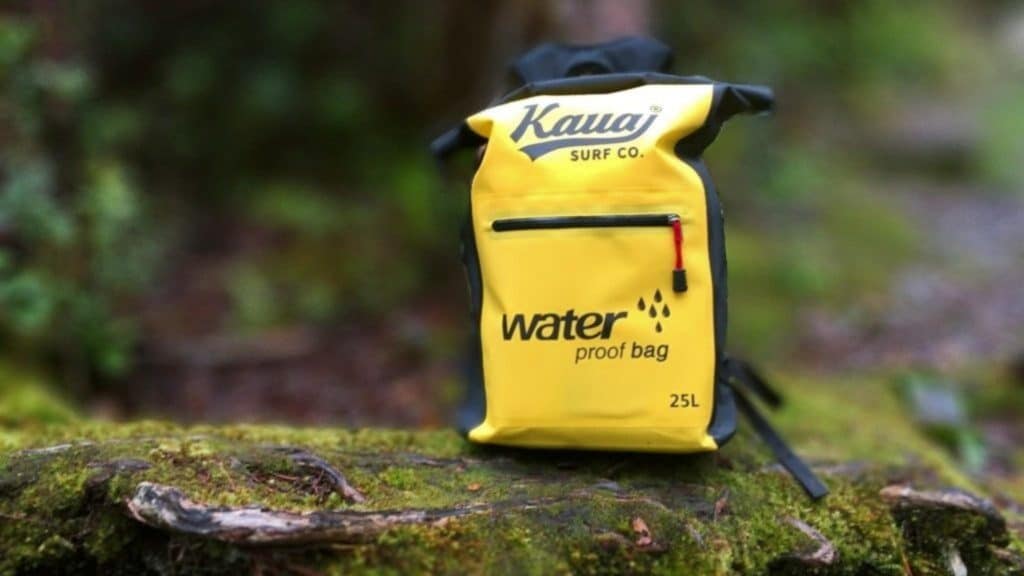 The best one for most purposes is this Earth Pak roll-top backpack. It's very sturdy and can hold almost anything you can think of bringing with you on your adventure, be it one or multiple days.
It isn't the best for hiking though as I'll discuss in a minute, that's why I've reviewed a lot of waterproof bags so you can find something that is suited for your adventure:
Waterproof backpack buying guide
When shopping for a waterproof backpack, it's important to consider the features that are most important to you.
Looking at the features is great, but it boils down to what you'll be using the bag for, which will ultimately determine the type of backpack most suitable for you.
Why use waterproof backpacks?
A waterproof backpack is perfect for those who want to keep their belongings dry and protected from the elements, whether you're caught in a rainstorm or hiking through a stream.
They offer protection from the elements: Waterproof backpacks are great for protecting your belongings from the rain, but some even use them to go swimming or river rafting!
So as you can imagine, going hiking might require a different type of bag than fully submerging yourself (and the bag!) in water.
Different uses of waterproof backpacks
Now that we've gone over what to look for when shopping for a waterproof backpack, let's look at what you could be using them for.
-Hiking: A hiking backpack needs to be able to withstand a beating. You'll need features like straps and loops to secure gear, as well as compartments and pockets for storage.
-Camping: When camping, you'll want a backpack that can store all of your equipment, from your tent to your food. Look for a backpack with multiple compartments and organizational pockets.
-Traveling: A travel backpack should be able to store all of your essentials, from your passport to your clothes. It's also important that it be comfortable enough to wear for long periods of time.
-Swimming: If you're looking for a waterproof backpack to take swimming, make sure it has a sealable closure system so your belongings stay dry.
Now that you know the different types of backpacks and what they're used for, it's time to find the perfect one for you!
Check out our list of five of the best waterproof backpacks below.
Best Waterproof Backpacks reviewed
Overall best waterproof backpack: Earth Pak Roll Top
This backpack is perfect for those looking for a hiking backpack that can also be used for camping and traveling.
It has multiple compartments and organizational pockets, as well as a sealable closure system to keep your belongings dry.
The Earth Pak Roll Top is an all-in-one bag that's perfect for any adventure. It's made with the highest quality materials and has tons of hidden pockets to keep your stuff organized.
With this bag, you can go from hiking to biking in no time!
It has tons of pockets and compartments and comes with an IPX Waterproof Phone Case. You can even use it as a dry bag!
The large front pocket makes it easy to access items without having to unroll your bag. This splash-proof pocket also makes it easy to grab items on the go when you need them.
For valuables, tuck them away in the bag's two interior pockets both mesh and zippered where they will be completely protected by the lining.
Earth Pak Roll Top is perfect for anyone who wants a stylish yet functional waterproof backpack!
The only thing that some people who use it a lot say is that it doesn't have a good weight distribution so everything would just hang from your shoulders, which would be a pain for longer treks.
Recreational hikers are loving the product though, and it might be best suitable for use on trips where hiking is not the main focus.
I paddle a lot for example, and this bag has been my go-to when I want to take everything with me.
It's the perfect mix of water-resistant fabric that can still protect your belongings from getting wet in case something does spills on them or if you're just feeling adventurous!
There are also plenty of pockets inside where smaller items won't get lost so they stay tightly secured throughout any adventure while large compartments outside provide ample space to pack anything up properly before reaching your destination – whether its kayaking across country lanes alongside flowing rivers.
Check prices and availability here
Best budget waterproof backpack: Neekfox Lightweight Daypack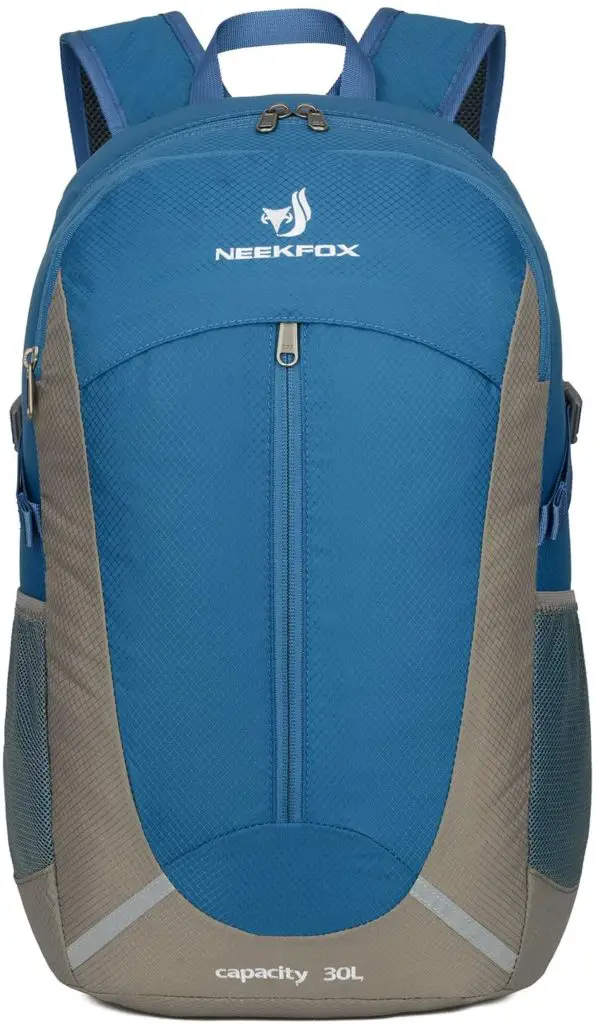 Tired of lugging around a heavy backpack all day?
Meet the Neekfox Daypack – your new lightweight best friend. This packable backpack is perfect for everyday use, and it's made from rip-resistant nylon fabric so it will last longer than you can imagine, even at this low price.
With two mesh side pockets, you can easily store a water bottle or other belongings. And with its adjustable breathable straps, the backpack will fit your body properly – no more uncomfortable carrying a heavy load all day long.
The roomy storage capacity of 30 liters means you can fit everything you need in this backpack, without feeling weighed down. And the two internal open pockets make it easy to organize your belongings.
Would this be enough for a 3 day journey?
The answer is yes, but it all depends on what you put inside. The maximum weight capacity of the backpack itself isn't too high at 44lbs (20kg).
However, if there are additional goods such as clothes and/or accessories then their total combined volume will determine whether or not they fit comfortably within these limits- so keep that in mind when deciding how much stuff should go into your bag before purchasing one!
This bag is the perfect size for carrying all of your gear for a daytrip though, with plenty leftover.
Its lightweight and tough material mean that it can withstand even rough use without any problems!
Some say it could do with a waist strap for added support when you're on a hike, but it's just a simple daypack, and very affordable.
Best waterproof backpack for cycling to college or work: Nubily Laptop Extra Large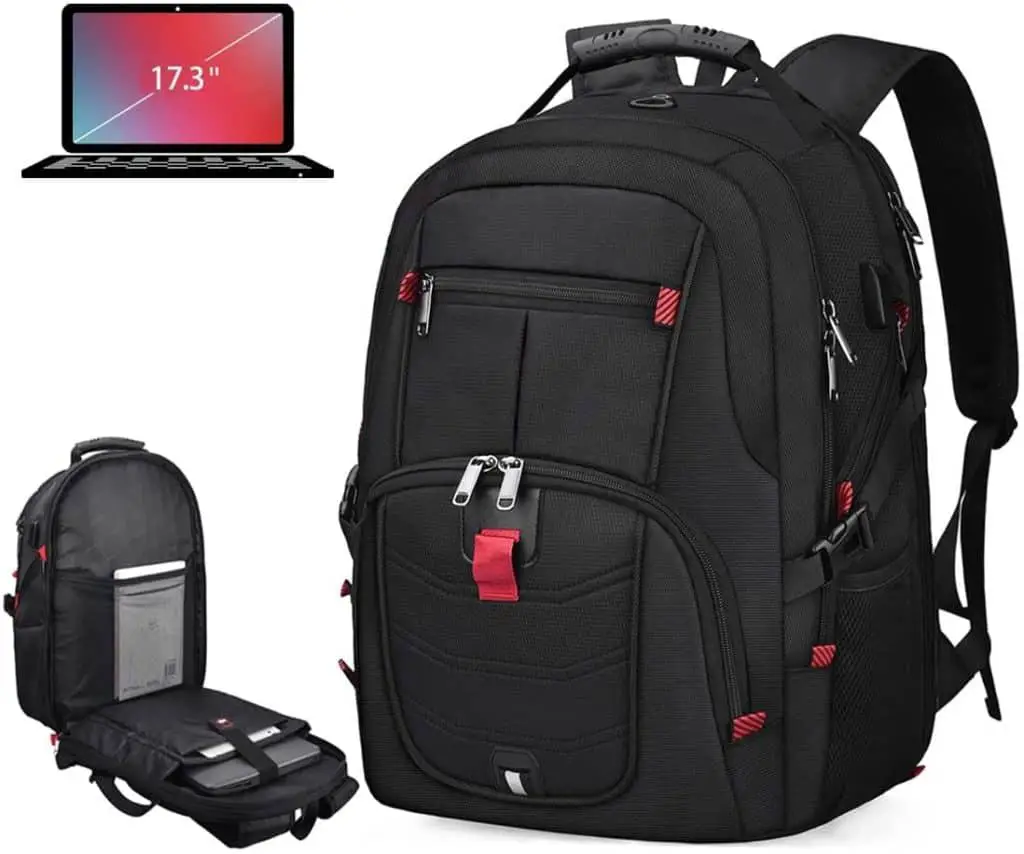 The Nubily Laptop Backpack is the perfect bag for your daily commute to work, college, or even high school.
It's lightweight and has plenty of pockets that make it easy to organize all your belongings.
The padded laptop compartment keeps your computer safe, while the USB charging port makes sure you never run out of battery life on the go.
And with its sleek design, this backpack will be an excellent addition to any outfit!
This waterproof laptop backpack is perfect for college students or commuters.
The headphone interface makes it easy to listen to music on the go. And the lay-flat design allows you to easily access all of your belongings when going through airport security.
With its large capacity, there's plenty of room for all of your books, clothes, and other essentials.
Plus, with its sleek design and durable materials, this bag will last a long time even with daily use!
It is more water-resistant than waterproof though, so really REALLY heavy rain will soak this bag, which is quite a negative when storing your laptop in it.
You can cycle through mild rain and the size of the bag compared to the price more than makes up for the negative, but be aware of this when purchasing this water-resistant laptop bag for commuting.
Check prices and availability here
Best waterproof backpack for skiing and snowboarding: Element Equipment Ultimate Boot Bag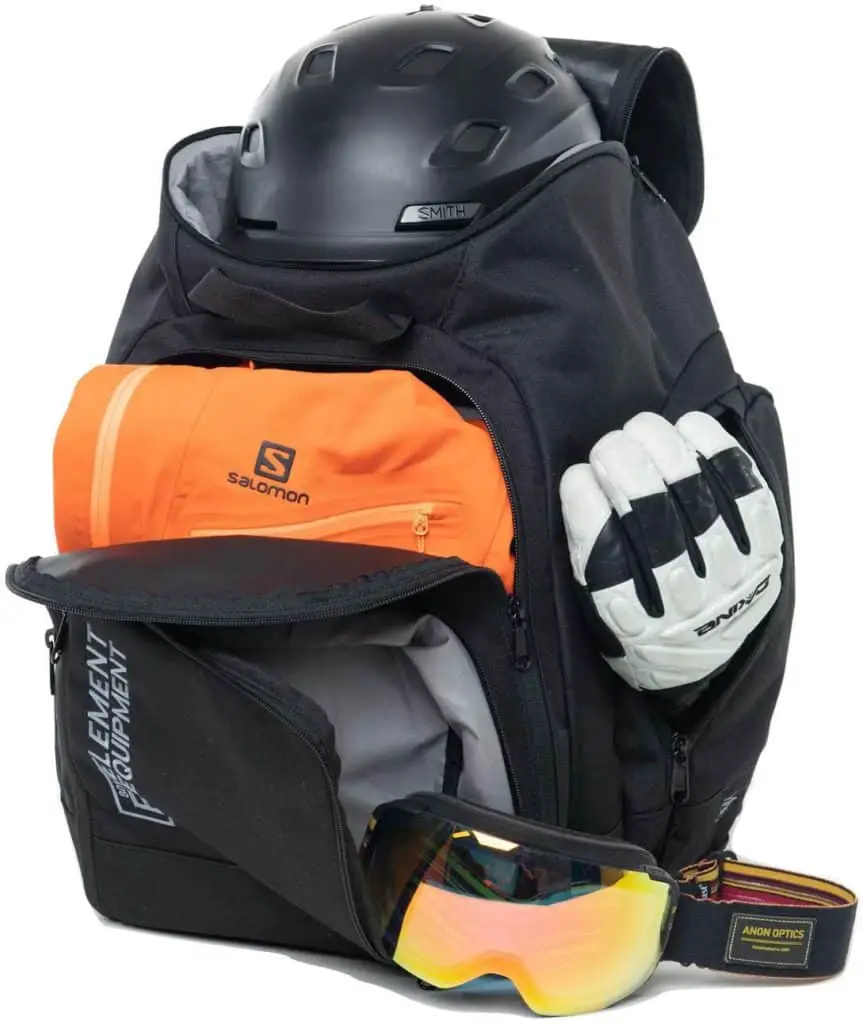 Do you hate carrying your skis and snowboard around?
You're not alone, which is why the Element Equipment Ultimate Backpack has been such a popular bag.
It holds 1 pair of ski or snowboard boots AND clothes, gloves, goggles, helmet, etc. so you can carry everything in one bag!
Plus it's made with reinforced construction with double stitching so you know it'll last through many seasons of use!
For years, I've been using a bulky and old boot bag to cart my skis around. But, it was finally time for an upgrade!
Best waterproof backpack for hiking: Sunhiker Small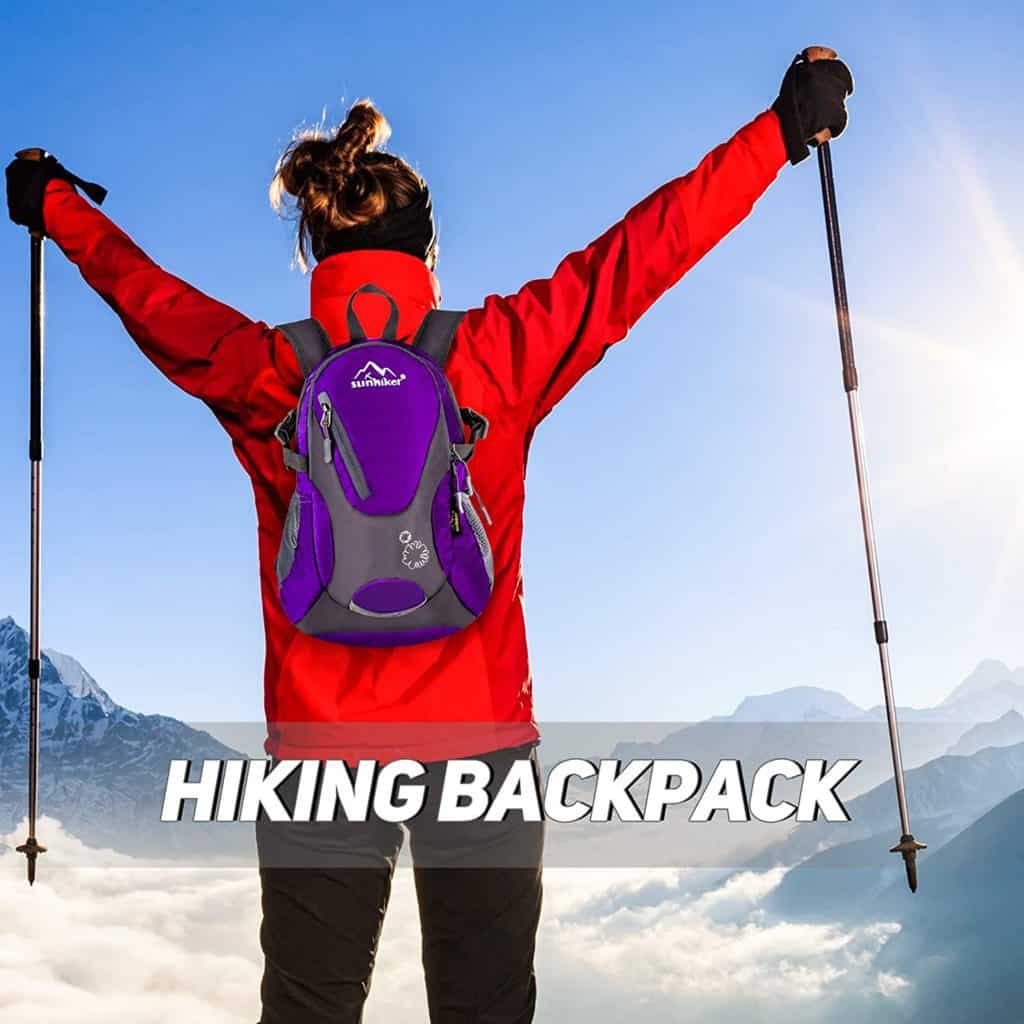 A lot of the bags here are very suitable for hiking, although they might be a bit overkill for just a recreational hike.
That's why I've added this one to the list.
Looking for a small backpack that can keep your belongings safe while you're hiking?
Sunhiker might be the perfect backpack for you – it's made of highly tear-resistant nylon and is water-resistant, lightweight, scratch-resistant, and durable. Plus, it comes in a variety of colors to choose from!
It's also comfortable to wear, so you can enjoy your hike without any distractions.
This bag is so light! I was amazed at how well it balanced on my shoulders.
The weight distribution seems perfect, even with a couple of water bottles inside.
With a good pouch for keys and credit cards inside the main compartment as well as an inner pocket to separate items in there if needed.
There were just two downsides:
firstly that zippered front pocket; it's not really big enough to actually put anything in there
then the waist strap; which was quite small and might not fit most larger adults
You'll love this backpack because it offers plenty of compartments to store your belongings and has breathable mesh shoulder straps that help relieve the stress on your shoulders.
Best waterproof backpack for paddleboarding and boating: Marchway Floating Drybag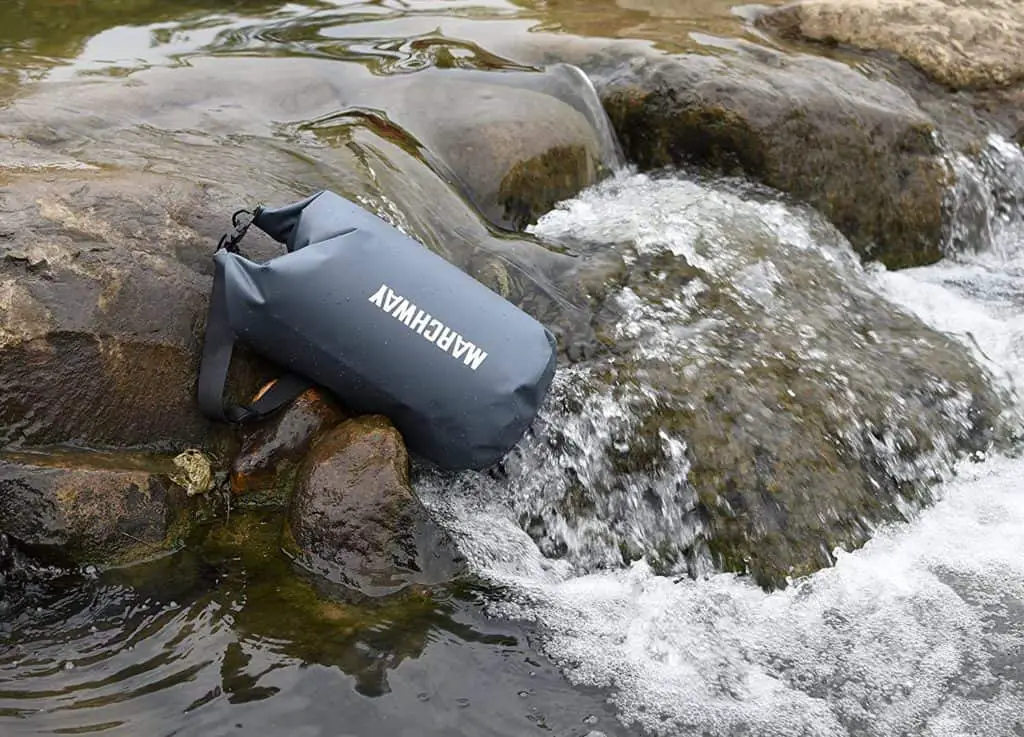 Looking for a backpack that can keep up with your wildest outdoor adventures?
Look no further than the Marchway Drybag. This backpack is made from durable ripstop tarpaulin and is designed to be watertight and puncture-proof. It's perfect for any extreme adventure you can imagine.
Not only is this backpack tough and reliable, but it's also easy to operate.
Just roll down the top 3-5 times and buckle it in place – it's that simple! And when you're finished using it, just clean it off with a quick rinse under some water.
You'll never have to worry about your valuables getting wet again. The roll-top closure system provides a watertight seal, so your gear will be safe and sound no matter what situation you find yourself in.
After reading the product details, you may be wondering how much space is actually left in a 10L bag when it's closed.
Well for starters there are 3-5 folds before buckling up so that must reduce some of your dimensions!
This bag is perfect for all the things I need on a day trip.
It's large enough to fit my towel, water bottle, keys, shorts, shirt, and wallet with plenty of room leftover!
The wide straps are comfortable so it feels like it's barely there when worn across your shoulders or as an afternoon backpack after kayaking fun.
Best waterproof backpack for diving: Cressi Piovra XL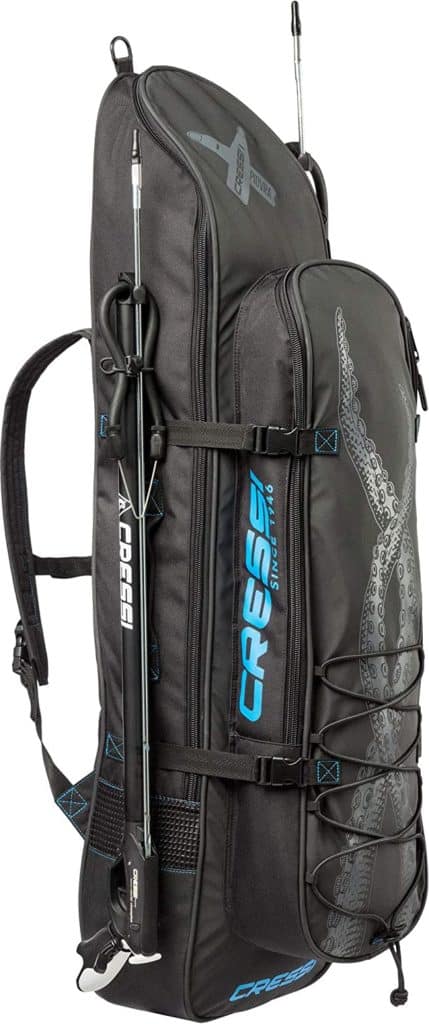 Are you a diver? Do you like to go spearfishing?
The Cressi Piovra XL is the perfect backpack for divers. It's designed to hold all your gear in one place and keep it safe while transporting it from the car to the beach or boat.
Plus, it's got a special compartment for storing cold drinks so you can stay refreshed on hot days! Or even better…store your freshly caught fish!
You won't find another bag like this on the market today. It has everything you need – including two elastic bands that are ideal for holding knives or other sharp objects securely in place!
And with dual zipper sliders with eyelet padlocks, there's no way anyone will be able to get into your stuff without your permission.
The rubber bands on these bungee straps look kind of cheap and they're not much good for holding onto your gun, are they?
Well, don't worry because the lateral elastic is made from nylon which means that this particular model should be able to securely hold any type or size weapon.
Yes, indeed-you can trust in their durability when fishing with a spear!
When I first got the bag, it was perfect. But as soon as my spearfishing kit grew and expanded to include a lot of new gadgets like depth finders or regulators with pressure gauges; things started getting too big for this awesome-looking backpack!
It does fit a tonne of gear though so you'll likely be able to enjoy it for a long time and can still be easily zipped up when not in use.
The only drawback is there's no pocket near the top where you could put weights to keep things balanced, but other than that it couldn't get any better.
Check the latest prices and availability here
Are waterproof backpacks worth it?
Well, that depends on what you're looking for.
If you need a backpack that can keep up with your wildest outdoor adventures, then investing in a quality bag will save you a lot of headaches, that's for sure!
Conclusion
There you have it – the seven best waterproof backpacks for everything from commuting to diving.
Whether you need a bag that can keep up with your outdoor adventures or one that will protect your valuables in any situation, there's sure to be a backpack on this list that's perfect for you.
So what are you waiting for? Get out there and start exploring!
Joost Nusselder, the founder of Kauai Surf Report is a content marketer, dad and loves trying out new sports with everything surfing at the heart of his passion, and together with his team he's been creating in-depth blog articles since 2019 to help loyal readers with surfing and water sporting tips.