I love creating free content full of tips for my readers, you. I don't accept paid sponsorships, my opinion is my own, but if you find my recommendations helpful and you end up buying something you like through one of my links, I could earn a commission at no extra cost to you.
Learn more
On a lucky day out, all you need is a board and waves to enjoy a full-on surfing experience.
But here's the thing, luck doesn't help every time! And that's why you will always need some critical knowledge beforehand as you go out surfing.
Well, thanks to the drastic advancements in technology, now you can predict the intensity of tides, the direction of air, and the latest conditions of your favorite surf spots with just a swoosh.
Yup, I'm talking about surf apps!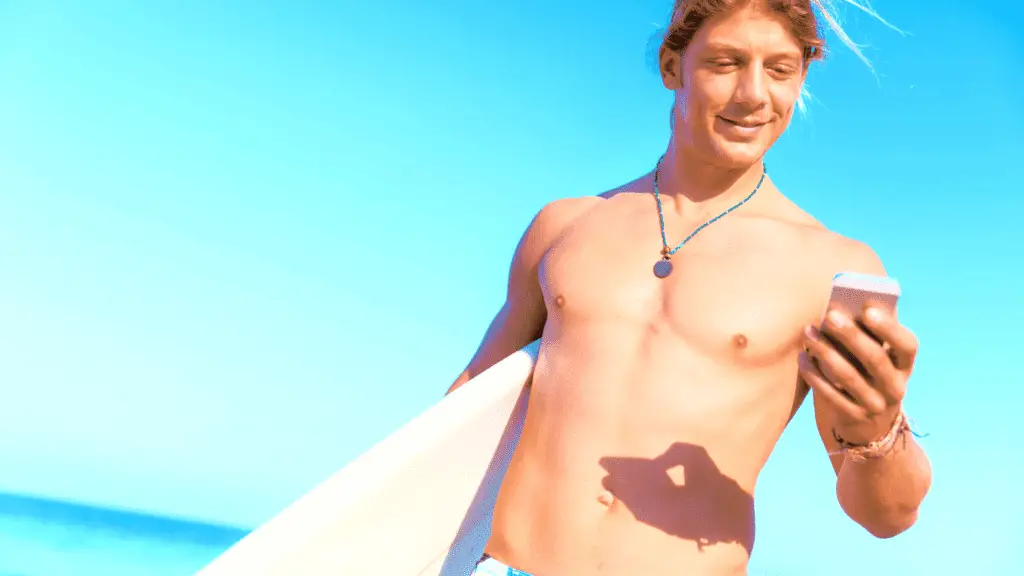 Surf apps are single, all-in-one surf watch applications that give you long-range surf forecasts, real-time surf reports, and weather forecasts. One of the most popular apps for all the purposes above is the Surfline app, a highly convenient, fast, and easy-to-use application that has everything you need. 
In this article, I will tell you about some of the best apps for surfing that you must have on your phone.
Whether you are a beginner surfer, a seasoned pro, or someone who just likes to stay updated with the latest developments in the sport, there is something to download for you!
8 best apps for surfing reviewed
Although most surfers won't take their smartphone out in the waves with them, they have become indispensable tools for a good surfing session.
A good app will show you all the details you need to know to figure out if the waves are any good.
Some apps do a better job at this than others. Let me show you my favorite apps for surfing.
Surfline app
Surfline has been a well-known name in surfing ever since 1985. And with their modern application, they continue to maintain their legacy. 
The Surfline app allows you to access surf cams at 800+ breaks worldwide with daily surf reports and 16-ay long-range forecasts from a highly qualified team of meteorologists and surf forecasters.
Apart from the surfing essentials, the Surfline surfing app also helps you stay up to date with live coverage of every major swell event, exciting surfing news, podcasts, product reviews, and much more to replenish your enthusiasm on days you aren't surfing.
Although you can use the basic version for free, Surfline offers a premium subscription plan for $7.99. It enables you to enjoy long-range swell analysis, ad-free surf cams, and other extras to enhance your experience.
Surfline app is available on both Playstore and Appstore.
Magic Seaweed
Talk of the most revered surf apps globally, and you would find the MagicSeaweed app not staying behind any.
Magic Seaweed is known for providing one of the most accurate long-range surf forecasts globally.
But hey! That's not the only great thing about it. With Magic Seaweed, each forecast comes with every bit of detail you need to plan your next surf sessions.
Surf size, swell height, swell direction, swell period, wind strength, wind direction, you name it!
Not to mention the thousands of live surf cams at your favorite surf spots around the world with a 5-star rating system.
This, when combined with other valuable features of the app, makes it the second name for convenience.
Magic seaweed is available on both iOS and Android. It also offers a basic and premium subscription plan depending on the features you need.
Dawn Patrol
Want to make your surf session more exciting and calculated? Well, Dawn Patrol has you covered…only if you have an apple watch, as it's an exclusive iOS app.
Apart from providing accurate surf reports, Dawn Patrol allows you to count your waves, know your top speed, forecast the tide, measure the distance surfed, and challenge yourself with every surf trip.
The app is specially made for people who are readying themself for competitive surfing, where keeping track of personal progress and records is essential to make the most out of their practice surfing sessions.
Dawn Patrol app is only available on iOS devices. Plus, It should be used explicitly with the apple watch to analyze your overall performance.
You can choose between both the free and paid subscription plans based on your needs.
Also check out what are the best wristbands for your Apple Watch
Windy
Whether you are planning your next surf trip or just want to know if it will rain next week, Windy is simply a go-to option.
It's a weather forecast application revered by many professionals around the globe for its accurate readings on predicting weather conditions.
Those include your favorite surfers, pilots, boat captains, fishermen, storm chasers, and modern farmers protecting their crops.
One of the factors that makes it so popular in its category is its fast, accurate, easy-to-read, and efficient weather models. It simply turns reading weather forecasts into a pleasure.
As a surfer, its immense accuracy in forecasting the wind speed, strength, and the direction it will turn onshore makes it one of the best surf apps for surfers.
Windy is available on Android and iOS with a basic and premium subscription plan.
World Surf League app (WSL)
Are you thinking about taking some rest from your surf life, but your internal surfer won't let you sleep? WSL app might just be what you need.
With the World Surf League app loaded on your phone, you can watch live surfing events with your favorite athletes scoring on the high tides.
To further spice up the experience, you can join fantasy leagues where you will compete against other surfing enthusiasts with your selected team.
Just buy a subscription, sit back on your couch, and enjoy the best surfers around the world in live broadcasts, playing in the greatest live surfing events taking place, all in one application.
Although WSL doesn't have to do anything with tide information or general surf reports, it is an excellent source of entertainment and means of satisfaction for your surfy pleasures.
The app is available on both Playstore and Appstore.
Tide Graph Surfing
A US-based surfer hungry for data? Tide Graph surfing app is something you would find extremely useful.
It's basically your ultimate diary that imports data from various credible sources and arrange it in a highly intuitive and detailed graph.
With harmonic predictions about wave height, water temperature, wind conditions, wind direction, and the overall surf conditions of almost every surfing spot in the United States and a total of 3000 water current locations, it's not just a surf app; it's a data beast.
Download it for your iOS or Android device now and make your next surf trip worth your time!
Dorsal Shark Reports
Safety should be one of your top-of-the-list concerns before you go out surfing. 
Dorsal app ensures that by informing you of shark sightings, and shark encounters on the shores of the USA, Hawaii, and Australia.
The app basically works on collecting a data set that combines the observations of over 200,000 surfers of the regions mentioned above and provides shark alerts to the users.
Additionally, Dorsal Shark Reports also sources information from aerial surveillance partners and official marine reporting to create a detailed map of shark activity in the particular areas.
As much as I wouldn't wish the reports of this surf app to be correct, I would still highly recommend using this to navigate shark movements.
You don't want to put anything at risk!
Boardline
Whether you are a grommet who doesn't know much about surfing equipment or an experienced surfer who needs assistance picking the ideal board, Boardline is just what you need.
The app has tons of information on some of the latest and greatest surfboards available.
With Boardline assisting you in choosing your surfboard, there's nothing that can stop you from scoring those surfs.
The best thing? It is available on both, Playstore and Appstore.
Also learn why you can't surf on a skimboard (+ 5 ways to have fun with one)
Conclusion
Surfing is one of the most enjoyable and adventurous sports out there.
However, with the dangers that could come with it, it is vital to have the right tools and applications to guide you before you begin your adventure.
In this article, I covered some of the best surfing applications so that you have all the information and safety you need as you go out on your next surfing trip.
Simply hit download, check the swell and go out to catch some waves!
Next, find out if you can also surf at night? (hint: it's possible!)
Joost Nusselder, the founder of Kauai Surf Report is a content marketer, dad and loves trying out new sports with everything surfing at the heart of his passion, and together with his team he's been creating in-depth blog articles since 2019 to help loyal readers with surfing and water sporting tips.