I love creating free content full of tips for my readers, you. I don't accept paid sponsorships, my opinion is my own, but if you find my recommendations helpful and you end up buying something you like through one of my links, I could earn a commission at no extra cost to you.
Learn more
Looking for a new skimboard to take your skills to the next level? Zap skimboards might be just what you're looking for!
In this comprehensive review, we'll take a look at the brand and see what makes it stand out from the competition. We'll also discuss the different types of boards offered by Zap, as well as their prices and customer service.
So, if you're thinking about buying a Zap board, read on!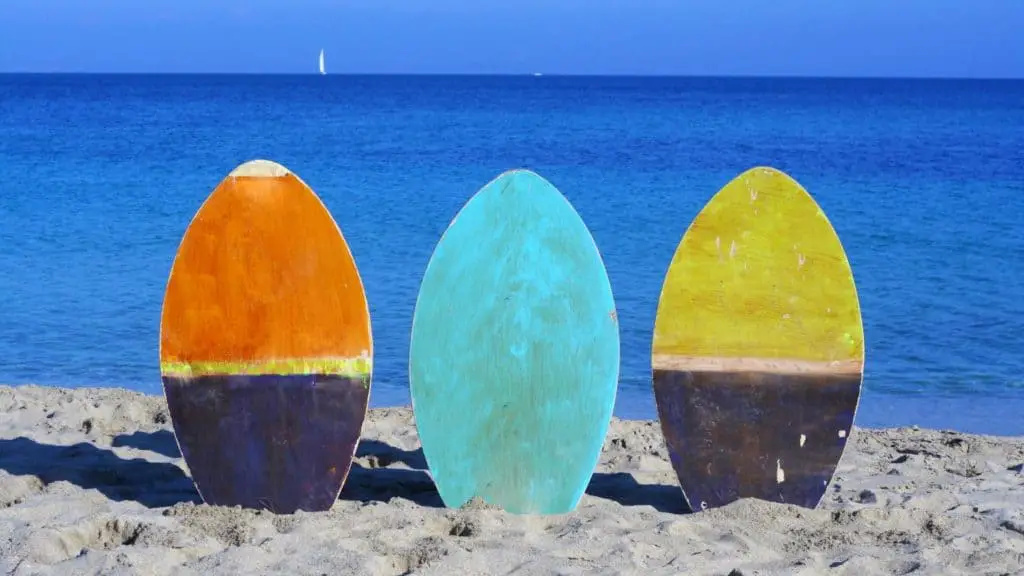 Are zap skimboards any good?
That's a tough question to answer – it depends on what you're looking for in a skimboard.
In this article, I'll look at when it might be the right choice for you, and when it just might not be.
What types of zap skimboards are available?
Zap offers a pretty wide range of boards, from beginner-friendly models to more advanced designs. Here's a quick breakdown of the different types:
Classic series wedge
The classic series is Zap's entry-level line of boards. These boards are great for beginners or anyone on a budget.
The wedge is a special type of board designed for use in waves. If you're looking to surf the waves on your skimboard, this is the board you'll need.
• Made for beginners and maturing young skimmers
• Built with composite fiberglass construction for unrivaled performance
• Comes in three different sizes so everyone can enjoy 
• Each board is unique
Zap Wedge vs Lazer models
The Medium Wedge sports a thicker core than the Lazer models, giving it a little more flotation so you can have some additional room to learn how to do some excellent wave riding.
Great for beginners!
C-series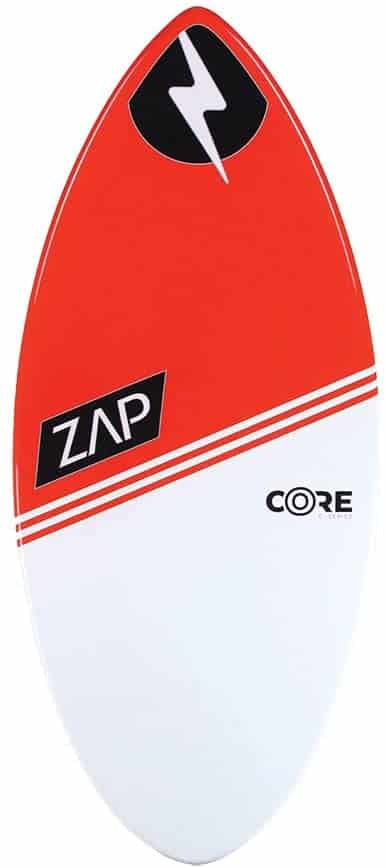 The c-series is Zap's intermediate line of boards. These boards are a step up in terms of quality and performance and are ideal for those who have outgrown their beginner board.
-The perfect board for the optimal sand sliding experience
-Great for beginners
-Crafted from lightweight materials for easy handling and control, that's what the patented E glass wrap epoxy will get you!
-Unique, handmade designs that are sure to turn heads
Lazer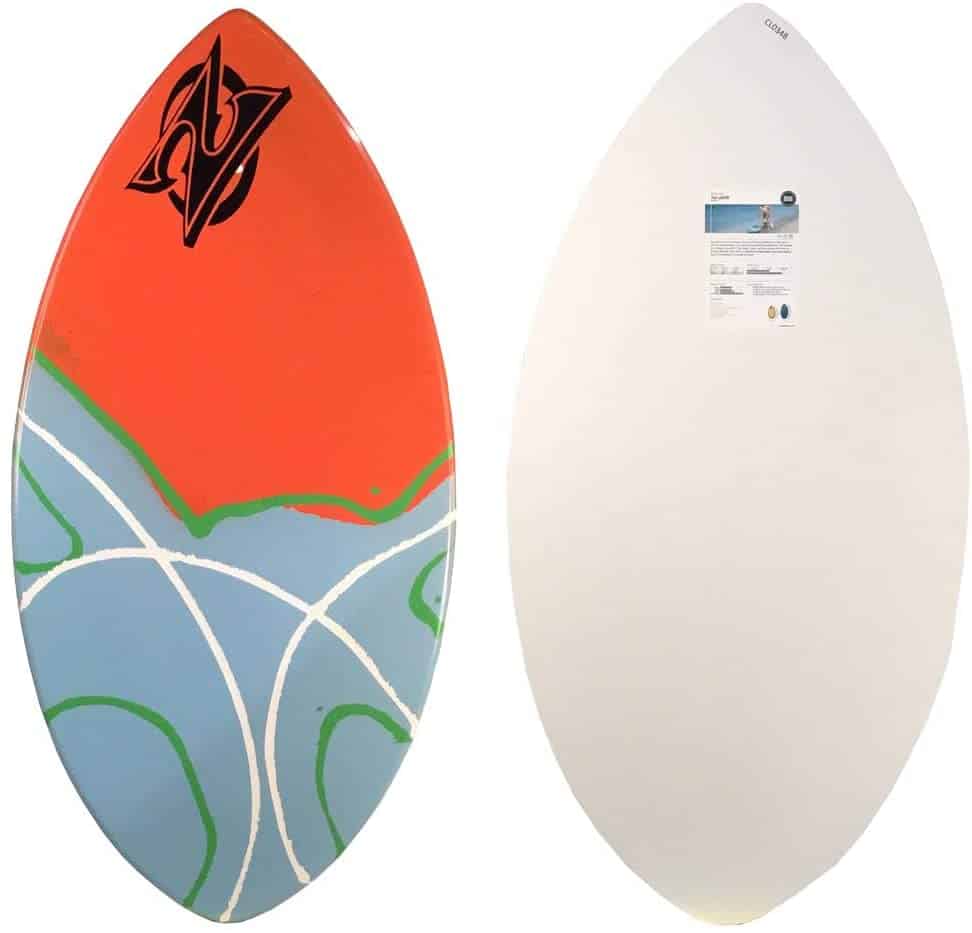 The lazer is Zap's high-end line of boards. These boards are designed for experienced riders who demand the best in performance and quality.
• Designed for optimal sand sliding
• Easy to handle
• Solid handles for small hands
• Enhanced stability while sliding (safer) 
Classic pro

The classic pro is a special version of Zap's classic series board. It's designed for more experienced riders and offers greater performance and durability.
• Unique, eye-catching color combinations
• For the serious skimmer who doesn't want to be seen as a novice
 • Quality construction and timeless style that will last for years
Check prices and availability here
Mini lazer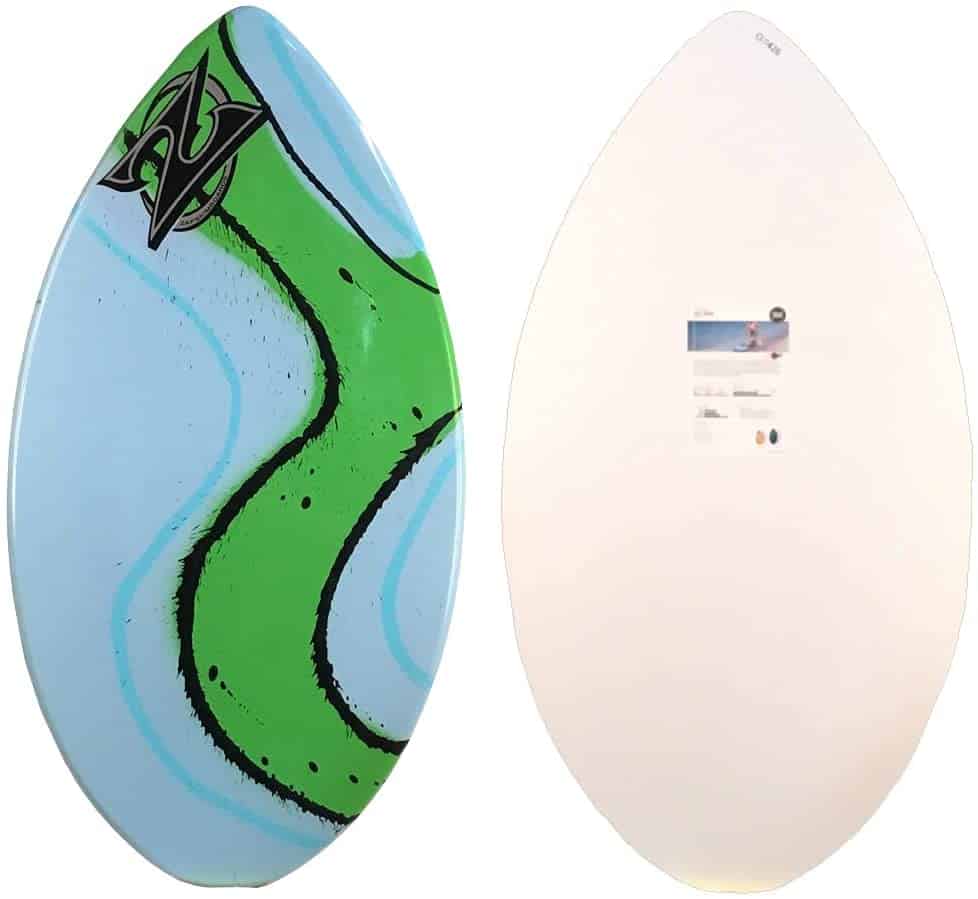 The mini lazer is a smaller, more compact version of the standard lazer board. It's perfect for those who want all the features of the lazer board but don't have the space to store it.
-The best board money can buy for getting your little guy or girl into skimboarding 
-Specifically designed for the optimal sand sliding experience 
-Crafted from lightweight materials making it easy for youngsters to handle and hold
Custom rocket fish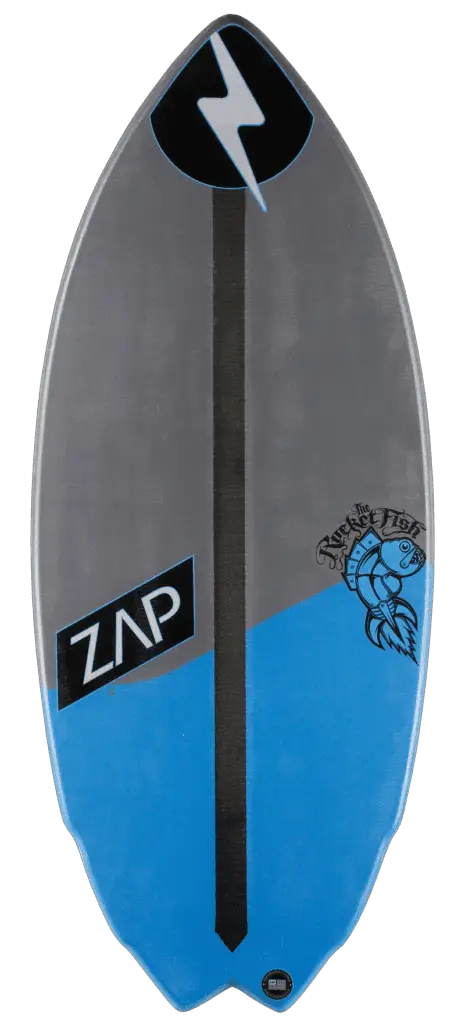 With a fuller nose-to midsection, the Rocket Fish is designed for smaller waves commonly found in Florida and Eastern Coast.
It can be maneuvered off its front foot much more effectively than traditional shapes with 1/2″ added width to make this board wider than most its size increasing speed when side slipping out onto waves – all while maintaining stability at high angles thanks to double wing fishtail design!
Why should you choose Zap Skimboards?
There are a few reasons why Zap boards might be the right choice for you:
– They're well-made and durable.
– The company offers great customer service.
– There's a board for everyone, from beginners to advanced riders.
– The prices are very reasonable, especially when compared to other high-end brands.
So, if you're looking for a good quality skimboard that won't break the bank, Zap is a great option!
When should you not choose zap skimboards?
Of course, Zap boards aren't right for everyone. If you're looking for a board that's extremely cheap, you might want to look elsewhere.
Additionally, if you're an extremely experienced rider looking for a high-end board, the zap line might not be right for you.
In general, Zap boards are a great choice for beginner to intermediate riders who want quality construction and good customer service. If that sounds like you, zap is definitely worth checking out!
What are Zap Skimboards made of?
Zap boards are made of high-quality materials, including fiberglass and carbon fiber. This makes them strong and lightweight, which helps with speed and maneuverability.
Do Zap Skimboards float?
Yes, and no. Zap skimboards float! They're designed to be used in both saltwater and freshwater, so you can take them just about anywhere.
However, they're not meant to be used as a flotation device – you'll still need to speed up to skim when riding one.
How much does a Zap Skimboard cost?
Prices for Zap boards vary depending on the type and size of board, but they generally fall in the mid to high range. However, keep in mind that you're getting a quality product that will last for years.
Zap boards range in price from around $100 to $200 USD. This puts them on the more expensive end of the spectrum, but they are generally considered to be worth the money.
Is there a warranty?
Yes, all Zap boards come with a one-year warranty against defects. If you have any problems with your board, simply contact customer service and they'll help you out.
How is the customer service?
Zap's customer service is excellent – they're always willing to help if you have any questions or problems. They also offer a one-year warranty on all of their boards, so you can be sure that you're covered if anything goes wrong.
Zap skimboards compared to other brands
Zap does offer some great boards, but they can be a bit pricey compared to other brands. Their customer service is also pretty good, so if you have any problems with your board, they'll be more than happy to help.
Background info on Zap skimboards
Zap skimboards is a brand that specializes in high-quality skimboards. They're one of the most established and recognizable names in the industry, and have been making boards for riders all over the world since 1983.
How long has zap skimboards been in business?
Bob Smetts, a native of Venice Florida, invented the Zap Skim'er in his backyard in 1983. Bob was then building bespoke surfboards and sails. Bob spent his childhood in Venice, where he began skimming on homemade plywood slabs at age seven.
Who makes zap skimboards?
Zap boards are designed and manufactured in the USA., handcrafted in Florida.
Conclusion
In conclusion, Zap skimboards offer a great product for a fair price. They have excellent customer service and a board for every skill level, so you're sure to find the perfect one for you.
So, what are you waiting for? Give Zap a try today!
Joost Nusselder, the founder of Kauai Surf Report is a content marketer, dad and loves trying out new sports with everything surfing at the heart of his passion, and together with his team he's been creating in-depth blog articles since 2019 to help loyal readers with surfing and water sporting tips.