I love creating free content full of tips for my readers, you. I don't accept paid sponsorships, my opinion is my own, but if you find my recommendations helpful and you end up buying something you like through one of my links, I could earn a commission at no extra cost to you.
Learn more
Skimboarding began in California around 1920 and since then, people have been enjoying the waves and water on either wooden or foam core boards.
Choosing a skimboard for yourself or your kids isn't as easy as it seems because there are several factors you need to consider including material, skill level, type of use, and of course the price.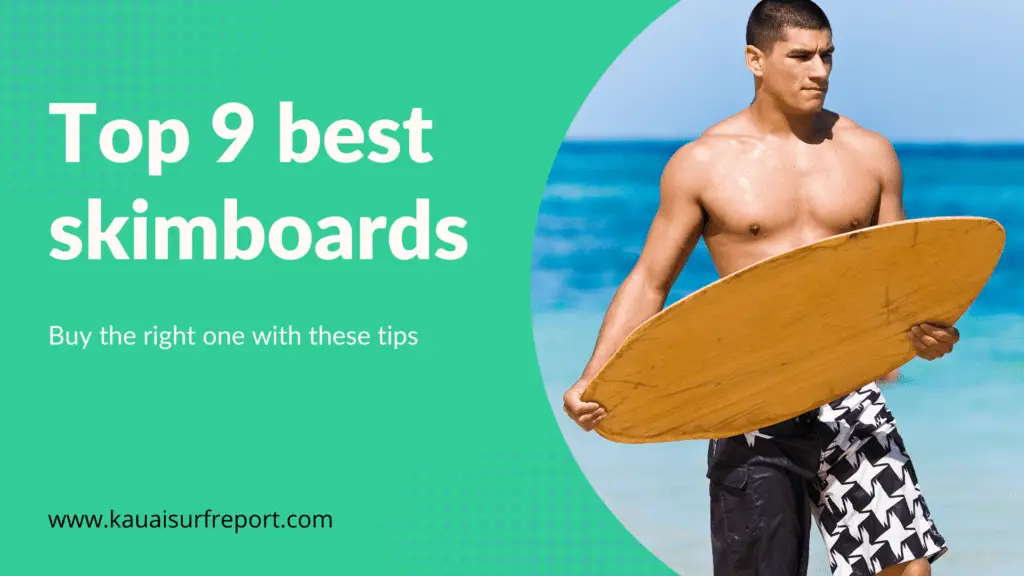 For a fun adventure on the water, the SlapFish carbon fiberglass board is the top choice because it's suitable for adults and kids alike but has a glossy finish and is already tapered for balance so anyone from a beginner to a pro can use it.
In this guide, I've reviewed the top skimboards you can buy for all your needs depending on skill level, budget, material, etc.
But before I can get into the reviews, you need to know the different options available so you can find what is most suitable for your specific needs.
Types of skimboards
The skimboard is a smooth and sturdy plank, made of either wood, a foam core, or new materials like carbon fiber (fiberglass).
These boards are finless and can be used to break the shore waves or inland in places with thin water layers.
Here's a pro showing how awesome skimboarding can be:
When we're talking about skimboarding, there are two main types of boards to consider.
Wave riding skimboards vs flatland skimming
Each of these skimming methods requires its own type of board.
Flatland & inland skimboard
Flatland/inland skimboards are generally made of wood and you can buy them at almost any surf and skate shop.
It's used to skimboard on non-coastal waterways, such as a river, lake, stream, or puddle.
For this riding method, you need a three-times-wider and one-and-a-half-times-longer wooden board than a skateboard. A thin layer of water is thrown across the board but is not ideal for wave riding.
There are 2 primary kinds of wood skimboards: the tricks board and the cruising board.
Cruising boards like surfing boards serve the same functions except on the water lines. Rocks shells and other obstacles do not stand a chance at a solid woodie.
The boards are known for their toughness and serve their use in breaking waves. They are also known as pintails thanks to their curved shape and are known as pintails or pintails for their curved boards.
The flatland skimboard is recommended for beginners as it's easy to work with but it's not designed for beginners who want to catch waves.
Wave riding
Most people when talking about skimboards will most likely talk about the wave riding boards that people use to catch waves in shallow waters near the ocean or seashore.
These are the most frequent skimboards used in the competition and both among professional and amateur players alike. The most common wave riding equipment is the foam skimboard.
The foam or carbon fiber boards are used to catch incoming break waves and then ride them back on your board to the shore.
These wave riding boards are used to ride small waves and not the major ocean waves like in surfing.
As a result, skimboards are divided into two categories: foam and wood.
All these materials have strengths and weaknesses and the usage of each requires special skill or training.
Want to use your skimboard everywhere? Look into getting a inflatable skimboard pool track!
Foam vs. wood skimboards: what's the difference?
Some people are still unsure about skimboards, especially when it comes to buying them.
But here's the thing – there are 2 types of skimboards and each is used for a different type of riding.
First of all, the skimboard shape is different from a surfboard – it is narrower, shorter, and even a lot thinner.
It also doesn't have any fins so it's harder to ride and control a skimboard on the water than a regular surfboard.
Now for the two types of skimboards: foam & wood
Wooden skimboard
Only flatland skimboarding is done on wood skimboards.
While you can ride one in small waves, they are too heavy and prone to sinking to be used in massive shore-breaking waves.
But that's not what they're designed for, so don't bother.
Wood skimboards are extremely strong and resilient, designed to shred rails, slide, and pop in a variety of circumstances.
A foam-based skimboard would be useless in these conditions.
Wooden skimboards can be produced from a number of materials and most are a combination of wood and other components.
Most people agree that you can learn to skimboard very well using a wooden board on your local lake or pond.
Foam skimboard
Foam skimboards are small, light boards used to ride waves.
Because of their foam core, these wave boards are commonly referred to as "foamies."
Of course, they're about a lot more than foam.
These are the most technical boards, and while they don't vary much in shape compared to hardwood skimboards, they do come in a number of technical levels ranging from beginner to advanced.
Foam skimboards are also more expensive to manufacture since they are more complicated and time-consuming.
As a result, it may be tempting to buy the most advanced board when you're first starting out, but resist – you'll have gone through a lot of boards by the time you reach that level.
Foam-based skimboards will have four key properties that will allow them to ride a wide range of waves:
They must be light enough to float – or skim – on the water, yet heavy enough to not fly away in the wind;
Skimmers must move quickly to catch the intended wave, or they will miss it entirely.
The board bends upwards at the nose, allowing it to cut smoothly through the water while maintaining control with a modest lift in the tail.
The amount of rocker varies depending on where you ride, but it's primarily a matter of personal preference.
Flexibility: A slightly flexible board will not snap as easily as a stiff board, but it will be slower.
Skimboard buyer's guide
Skimboards aren't one-size-fits-all. There are many aspects to consider when buying one.
Different types of equipment, shapes sizes as well as special features will allow you to gain the best board performance.
Selecting the features that make you happy is important as it will have you experience truly magical rides in the water like an airplane glides through the air.
This guide is a starting point and helps you to know which features would work out the best for you
Skimboarding can be an intense water sport that tests your balance, observational power, and your fitness and performance level.
Having a good board is the beginning of your fun skimboarding journey.
Shape and size
Wide and long skimboards are quicker than thin short skimboards.
A high-quality board known for superior performance will usually have sharper tails with and the board's nose is curved.
While some boards are quite flat, others have pronounced rocker boards.
Another area which you should focus on is the board profile as they greatly affect the performance under different conditions on the water. The best skimboard for beginners is a weave or pintail.
Choose a skimboard with a surface proportional to your size and weight.
You're probably not going to put too much force on this thing but you're unlikely to take advantage of something that's way too big for you.
The larger the board, the higher its weight capacity so it can carry heavier riders.
The skimboard sizes are sold by size. 48″ is considered quite large while 36″ is best suitable for kids because the board's surface is small.
Kids need the lightest boards so they can maneuver them easily.
Boards designed for beginners have fewer curves in them so they are more stable. Then, consider the rocker because it determines how the board performs while it's ridden.
Here's the thing to note:
The best skimboards are small and the most comfortable. You need to look for an easier way to get more distance than speed.
Those boards have more buoyancy making him more stable when floating on the surface. On the other hand, adding surface area creates more friction that slows the board.
If you plan on doing tricks though, having a small board makes it difficult to stand and control your board. But, with a smaller board, you can easily perform all kinds of tricks and spins.
Material
Many people associate skimboarding with a cheap skimboard made of wood that is typically flat, hefty, and thin.
These are fine for playing in the shallows and for lighter people and children, but if you're serious about skimboarding, you'll get a lot more out of a lighter, better-built epoxy foam or carbon fiber skimboard.
These have stronger wave buoyancy, often include a rocker for improved turning and carving, and are thicker and larger to provide more surface area for skimming.
The non-wood material is better if you want a durable skimboard.
The biggest advantage of a wooden skimboard is the cost; they are cheaper boards but will not last as long if used frequently.
I think they're suitable for beginners or having fun on vacation, but if you want to develop, we recommend going with an epoxy foam construction.
Carbon Fiber boards provide top-notch performance, with the best strength-to-weight ratio, as well as increased rigidity and responsiveness.
They can travel long distances at a faster speed over water, making them ideal for advanced wave riding and tricks.
When it comes to the common wrap material, it's either foam or timber. Once the core is formed it is wrapped.
It can be made out of different wrap materials whose quality is important for the overall quality of the board.
What the board is made from will influence a few different things. This includes both durability and performance.
Skimboards range from laminated wood to foam and high-quality carbon-fiber epoxy. Ideally, you want a board that is incredibly strong but also lightweight. 
Foam skimboards are great for learning as they are very forgiving.
Carbon-reinforced fiberglass boards are a bit faster and more tricky to handle, which makes them an appealing choice for more experienced riders.
Wood and foam absorb water at long-term intervals. E-glass, Tetilium, S-glass, and carbon are used for it.
Coating, grip pad & traction pads
Some skimboards have a high gloss coating and some also have a handle grip and traction pads.
Advanced riders don't require grip pads since they can handle using wax only on the high gloss clear coat.
The boards with a smooth deck are very slippery and require waxing, just like surfboards. Otherwise, they're so slippery when wet you won't able to keep your balance on them.
Other skimboards have a textured surface called the textured traction pad. These grip pads are stuck onto the board and eliminate the need to wax the board. It makes riding the board safer and easier.
Absolute beginners and kids are better off with a good grip like the EVA foam layer with a textured grip.
Top 9 best skimboards reviewed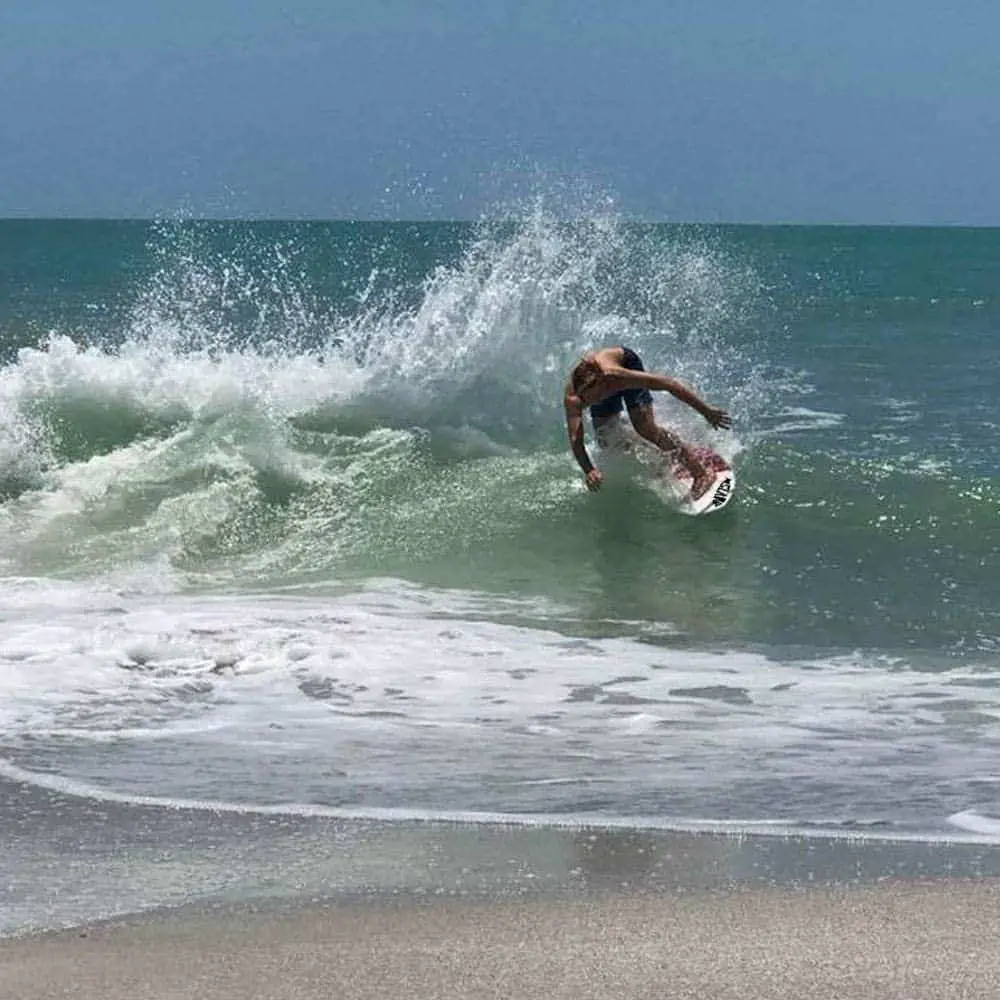 The delicate feeling of balance combined with the freedom to play with the momentum on the water is priceless.
Not all skimboards can offer good-quality fun. Also, some are designed for experienced riders while some are made for beginners and young riders.
The right-sized skimboard can help you control the board and keep it easy to grip by helping you keep the proper height.
This section includes a selection of some of the best skimboards for all levels. I've included wooden boards as well as the top fiberglass skimboard and everything in between.
Best overall skimboard & best foam core: SlapFish for Adults & Kids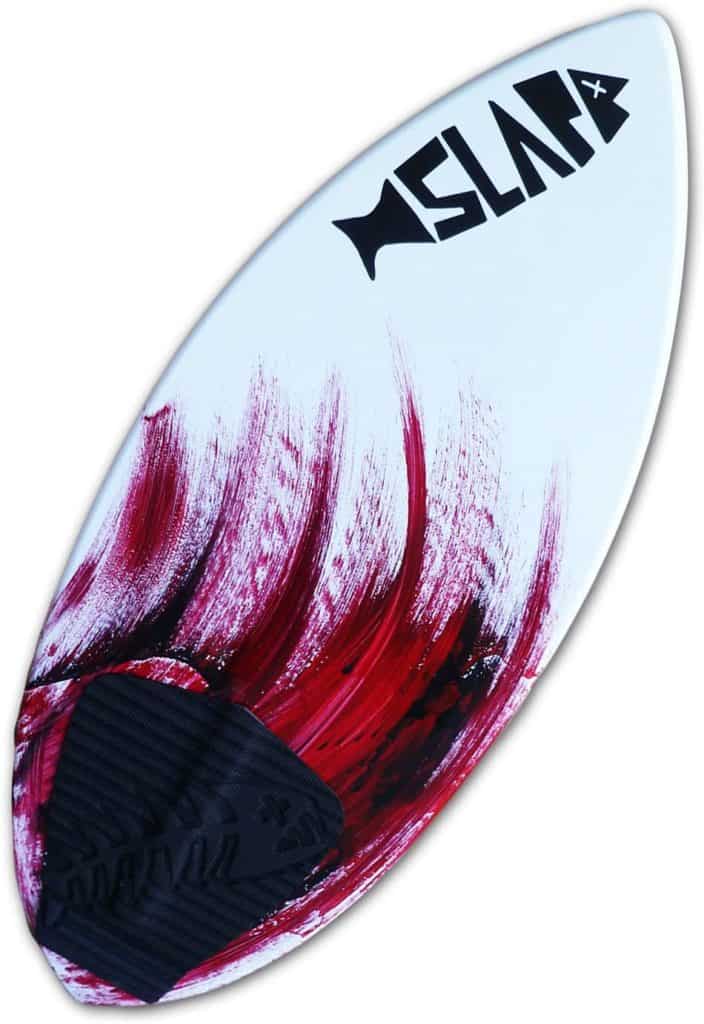 size: available in 41, 48, 50 & 52″
material: foam core & fiberglass
traction pads: yes
supported weight: 50 – 22o+ lbs depending on size
best for: wave riding
When it comes to a skimboard for people of all ages, the SlapFish is one of the best because it comes in all sizes from 41″ for kids to 52″ for heavier adults so there's no weight limit.
While it's ideal for wave riding, it performs just as well as solid wood core boards for flatland skimming. It has excellent float and buoyancy, even in deep water.
The SlapFish is a lightweight board made of poly PVC foam core, fiberglass and has carbon reinforcements at the nose and tail.
There's an ultra glide bottom and a textured deck grip for superior control. Since the deck grip is pre-installed, you don't have to worry about it falling off while you're using it.
The Slapfish skimboard has high-speed stabilization and is a highly durable board.
It really has all the features that are you'd need for your new board.
The quality construction makes it suitable for both experienced and novice wave riders. Furthermore, the Slapfish is equally at home while flatland skimboarding as it is on the waves pulling incredible stunts.
You'll notice the nose and tail rockers are pronounced which means you can transition from the sand to open water easily without negatively impacting the board's performance.
What makes this particular board stand out from others is the core material.
The SlapFish is made of poly PVC whereas the Zap Core C-series, another very popular skim board is made of EPS styrofoam which is not nearly as durable.
Some customers noted that their board arrived with minor scratches and imperfections that were mostly fixed when the board was waxed. The foam deck is easy to wax and quite sturdy though.
This is the kind of fool-proof board for those looking to do serious riding on the water and sand. Since the larger ones hold have no real weight limit, it's a great family board mom, dad, and kids can use too.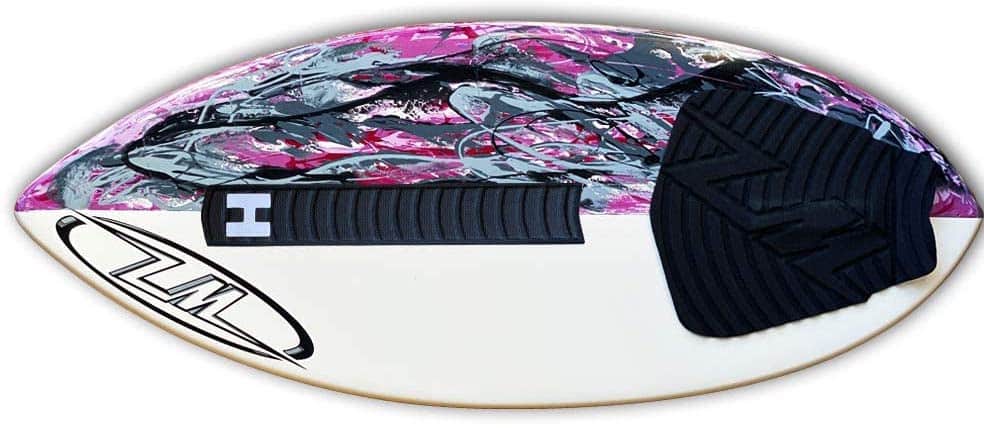 size: 48″
material: foam core & fiberglass
traction pads: yes, traction deck grip pad
supported weight: up to 200 lbs
best for: wave riding
If you're serious about professional skimboarding, the Wave Zone 48″ purple wave delivers superior performance and build quality.
Wave Zone skimboards are popular among advanced skimboarders who pride themselves with this board at every skimboarding event.
The price is high for this skimboard model but it's one of the best on the market and intended for advanced and pro riders and is also manufactured in the USA.
Also, you receive a travel bag for your board which would normally cost you some extra cash.
Each skimboard is already equipped with a traction deck grip pad which helps you maintain your footing at the back of the board while skimming through turns.
The traction pad doesn't cover the entire deck so there's room for waxing.
Compared to Zap Pro skimboards, this board is quite good and usually cheaper. While some people claim the Zap fish skimboard is higher quality, others are saying the price just isn't worth it.
For a combination of high-quality materials, traction pads, and price, the Wave Zone board is a better deal.
A known disadvantage of Wave skimboards is that they can't handle heavy weights so they're only good for riders under 200 lbs.
It's always important to pick the skimboard that is the right size for your body type.
What really makes this Wave Zone board a good option is its durability – it has a carbon-reinforced tail and nose and a strong core.
Therefore, it's one of the best foam boards and is known to be extremely durable especially for wave riding.
SlapFish vs Wave Zone
Both SlapFish and Wave Zone are high-quality skimboards designed for lasting performance so they're more expensive than those cheap sporting good store products.
But, these boards are distinguishable by their superior build and materials.
They are lightweight, float well, and work well for both sand skimming and wave riding even though they're not made of wood.
The Wave Zone board has an extra traction tail pad (arch bar) as well as the regular grip pad so it's easier to ride without falling.
On the other hand, you can always order the arch pad for your SlapFish board too.
Wave Zone has limited weight capacity and can only hold individuals up to 200 lbs whereas the largest size of the Slapfish can hold about 20-30 pounds more.
You also get many more size options with the SlapFish brand and they cater to a wider rider base. Their small board is ideal for kids who want to learn to skim.
Since these boards are made of the same material and have a similar density, both are suitable options but the SlapFish is more kid-friendly.
More waterfun! Here I've reviewed the best underwater scooters
Best budget skimboard: BPS 'Shaka' Skimboard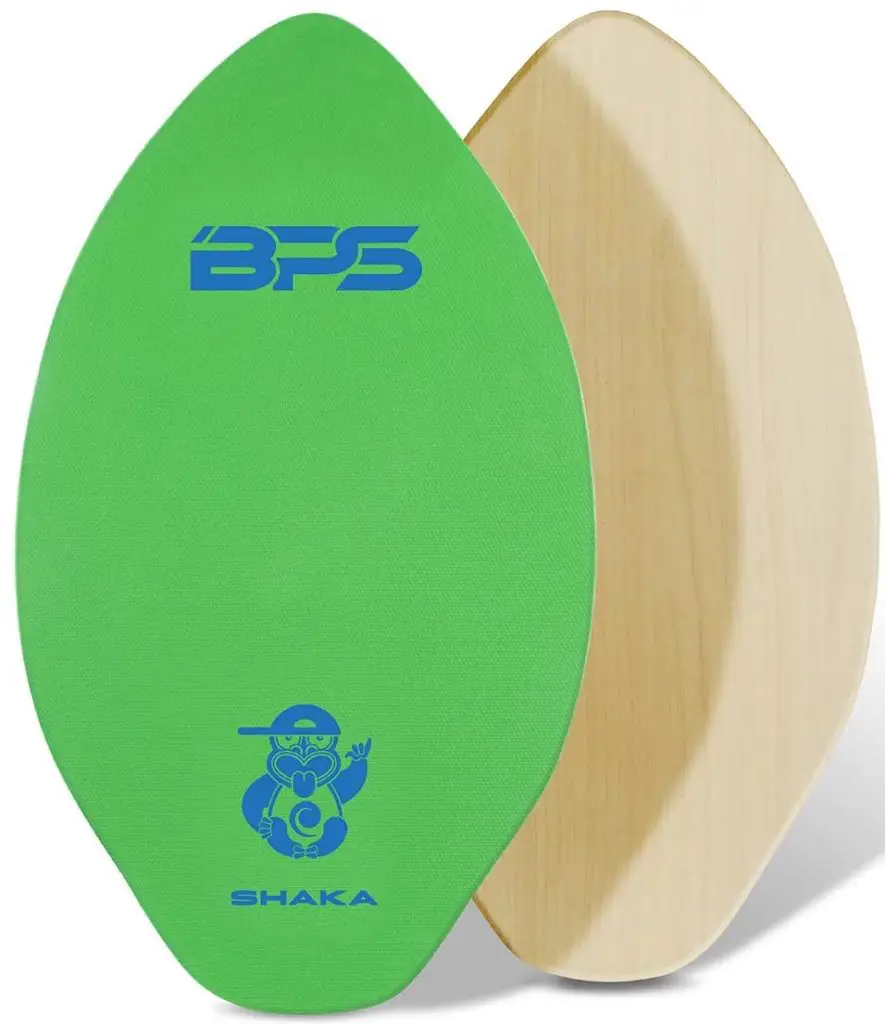 size: available in 30, 35, 40″
material: wood
traction pads: yes
supported weight: 50 – 150 lbs depending on size
best for: flatland & inland
If you want to learn skimboarding without spending a lot of money, the BPS "Shaka" range is the best value for your buck.
This plywood board has a weight limit of up to 80 lbs for the 30″ kid-sized version and up to 150 lbs for the others.
While it's a great skimboard for children, it's also a suitable option for beginner adults looking to get their feet wet for the first time.
The board has a classic wide design but it glides smoothly even over long distances and is perfect for small waves.
On the other hand, it can still glide over long distances even in smaller waves.
To make sure you don't slip while gliding, the top surface is covered with dot-patterned EVA foam that gives a solid grip even when it's wet.
The BPS Shaka skimboard is easy to maneuver with a flat bottom and a gentle nose rocker. It's suitable for sand skimming but since it's made of wood, it's not as great for wave riding as a foam deck board.
Furthermore, the package has included an E-guide which gives you tricks in the most effective way so as to accelerate your skimboarding abilities.
The top face consists of dot-patterned EVA foam which allows for a unified grip even in wet weather. The board doesn't need waxing so that's one extra step you can skip so you can get straight into the water.
BPS skimboards hold up quite well after many uses. You might notice some paint chipping off after a while and this is the one major downside of getting this board.
Also, the gloss coat isn't the highest quality so that's something to keep in mind.
This solid wood core skimboard is treated with a gloss clear coat that gives it an amazing glossy finish. It may not be the fastest board you can get but it'll be comfortable to use in nearly all conditions.
Plus, at such a low price, this is a great value buy.
Best skimboard for beginners under 100: BINDY Australia 41 Inch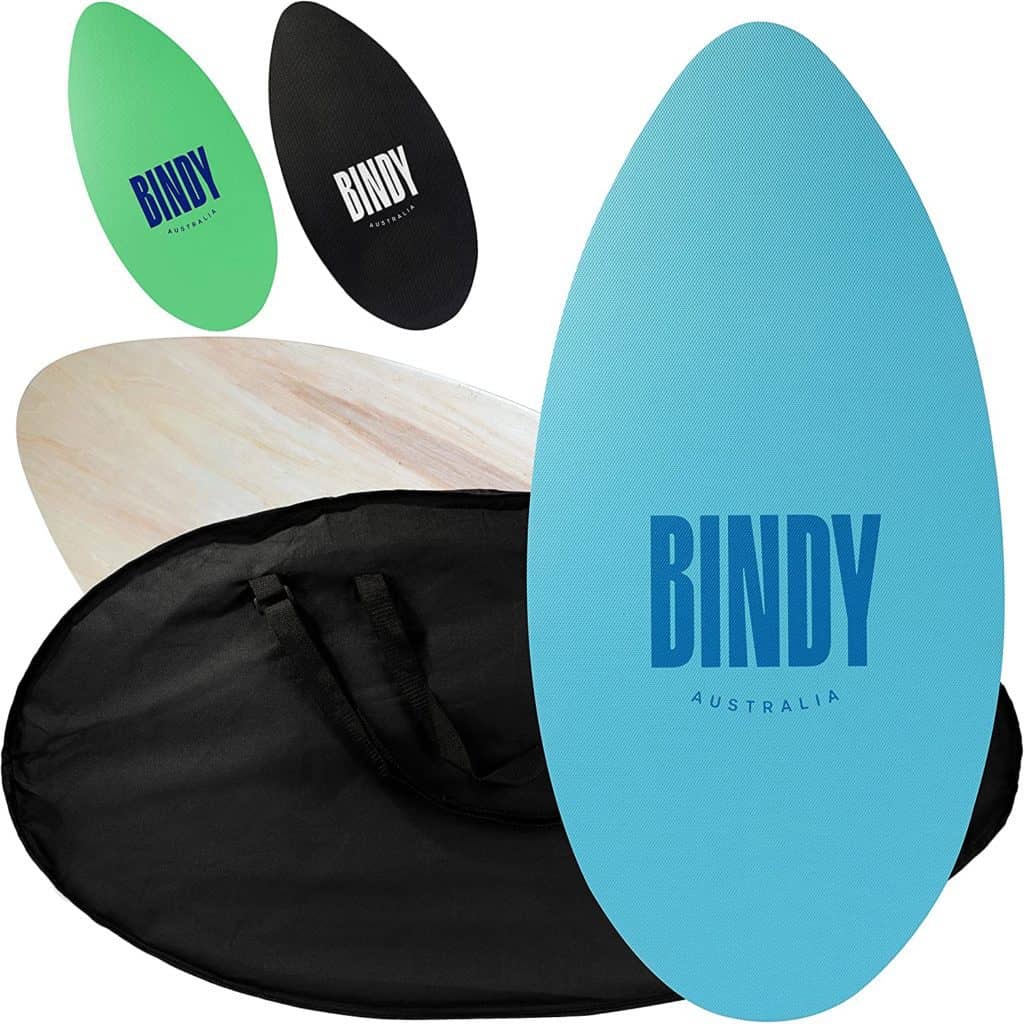 size: available in 41″
material: solid wood
traction pads: yes, EVA foam grip
supported weight: 200 lbs
best for: flatland
The Bindy skimboard is perfect for beginners who just want to go to the beach and learn to skim on a low-maintenance and fuss-free board.
When you want to find the right skimboard for less than $100, you've got quite some options but experts recommend a wood skimboard like the Bindy 41″.
This wooden board is easy to throw along the water and because it has a curved nose, it glides on top of the water smoothly.
Since it's designed with beginners in mind, the top side of the board is covered with grip pad material so the rider can keep their balance and avoid slipping.
The traction pad feature is very useful for newbies because it makes getting onto the board easier.
When you want to find the right skimboard for less than $100, you've got quite some options but experts recommend a wood skimboard like the Bindy 41″.
It is one of the best skimboards in terms of price, durability, and overall performance.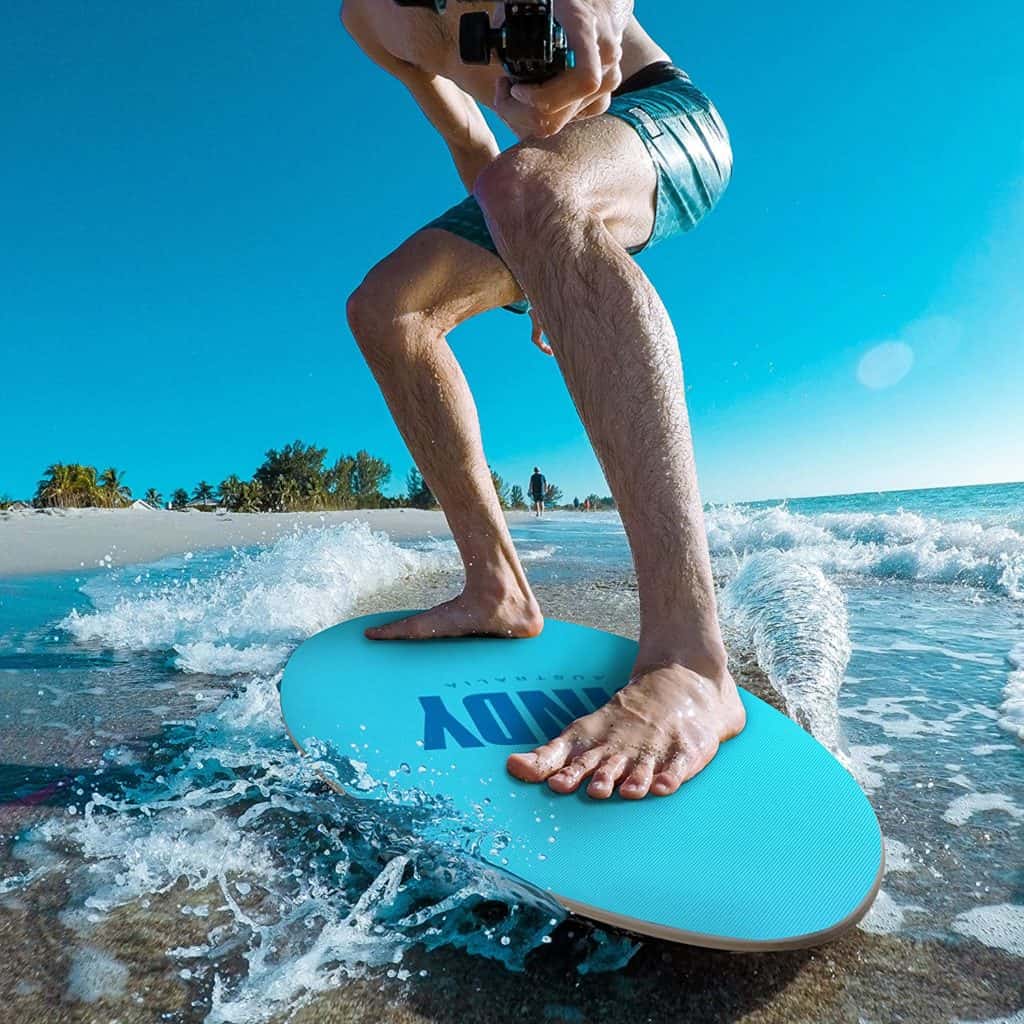 Wood boards are known for being notoriously flimsy and breakable but the Bindy is extremely durable in comparison to others like the Rip 35″ which can crack after a couple of uses.
The Bindy doesn't need to be waxed so it's really easy to just grab and go. It has been tested in various types of terrain and water and seems to hold up well, even if you're catching waves.
Some customers have noticed the grip pad peeling off after some time but luckily it can be glued back on.
When it comes to weight capacity, the manufacturer doesn't specify exactly but users over 200 pounds are saying this board is too small. Therefore, I recommend it for adults under 200 lbs and teens.
The manufacturer has included the carrier bag too which makes this an even better deal.
Check prices and availability here
Best skimboard for kids & best cheap budget wood: South Bay Board Co. 41″ / 36" Skipper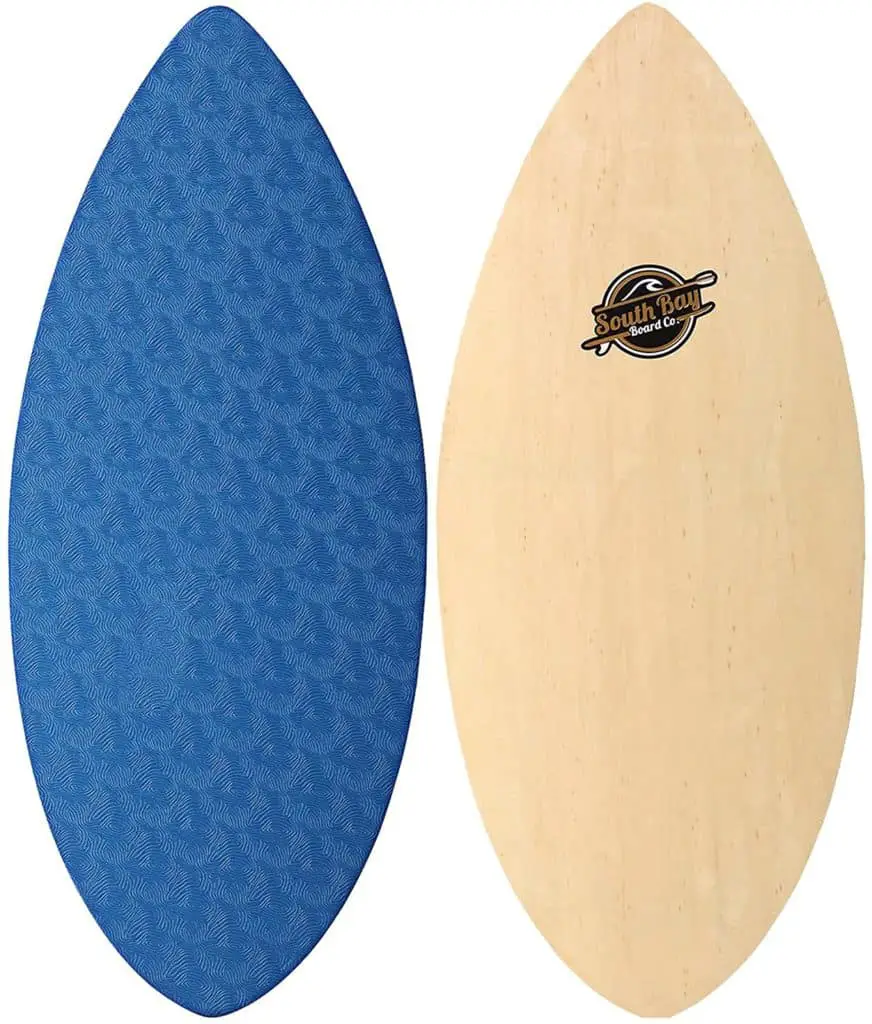 size: available in 36 – 41″
material: epoxy plywood
traction pads: yes, texture foam top deck
supported weight: 50 – 22o lbs depending on size
best for: flatland
Once kids get their feet on the skimboard it's going to be hard to keep them off it. So, you should get a skimboard that's suitable for their smaller bodies. You need a shorter board that is lightweight.
A medium-sized thickness is great because it allows for less carving of those larger waves which can potentially scare the kids.
The South Bay Board Skipper is the ideal skimboard for complete beginners or kids who are getting serious about succeeding in this exciting water sport.
If you know anything about this sport you surely know how great this brand is. In fact, South Bay is one of the top-rated board manufacturers.
This high-quality wood skimboard is definitely one of the best skimming boards available in the market. Although it's a kiddy board, it performs well and the board does not feel sluggish but will certainly give your child fun.
Pros recommend the 36″ for kids over 10 and teens who want to get familiar with a wood skimboard. This board has a non-slip foam top and it doesn't require any waxing.
With a 0.5″ thickness, this South bay board is light so kids can carry it to and fro but it's also speedy and offers pretty good stability on the water and sand.
The shape is rather flat and has a minor rocker but again, this aids with stability so when the child is skimming on flat and shallow water and surfaces, there's a smaller risk of falling.
The foam is not as great quality as other foam core boards and the grip material tends to peel off after some use but then again, the product is quite cheap.
There's a plywood base that is not as durable in the long term.
Also, you can't add an additional trackpad to this board but it has a great affordable price so it's a great learning skimboard for children.
If you respect the weight limit, it is probably the best skimboard for your kids.
BPS Shaka vs Bindy vs South Bay Board Co
Let's take a look and compare the three budget-friendly options. First of all, these are all made of a wooden core, not foam.
The BPS Shaka is the best skimboard for adults and kids who just want a cheap board for learning. The South Bay Board though is better for kids because it has a better no-slip grip coating than the BPS.
The Bindy Australia is one of those fail-proof wood skimboards for adults but it comes in limited sizing so you can only get the 41″. Adults and older teens prefer the Bindy because it's narrower and better for sandboarding.
South Bay's board has a classic tear shape which is ideal for all kinds of riding in shallow water. It's highly recommended by Amazon shoppers because it's suitable for beginners and intermediate riders alike.
The disadvantage of BPS Shaka is that it has a very limited weight capacity of 150 lbs so it doesn't cater to many groups of riders. A lot of advanced riders just skip out on the Shaka and recommend it for youngsters only who are getting their first-ever skimboard.
Bindy and South Bay are pretty resistant to harsh surfaces and quite affordable too so they're more versatile and cater to a wider customer base.
Best foam core skimboard & best for wakesurfing: Wavestorm Foam 48″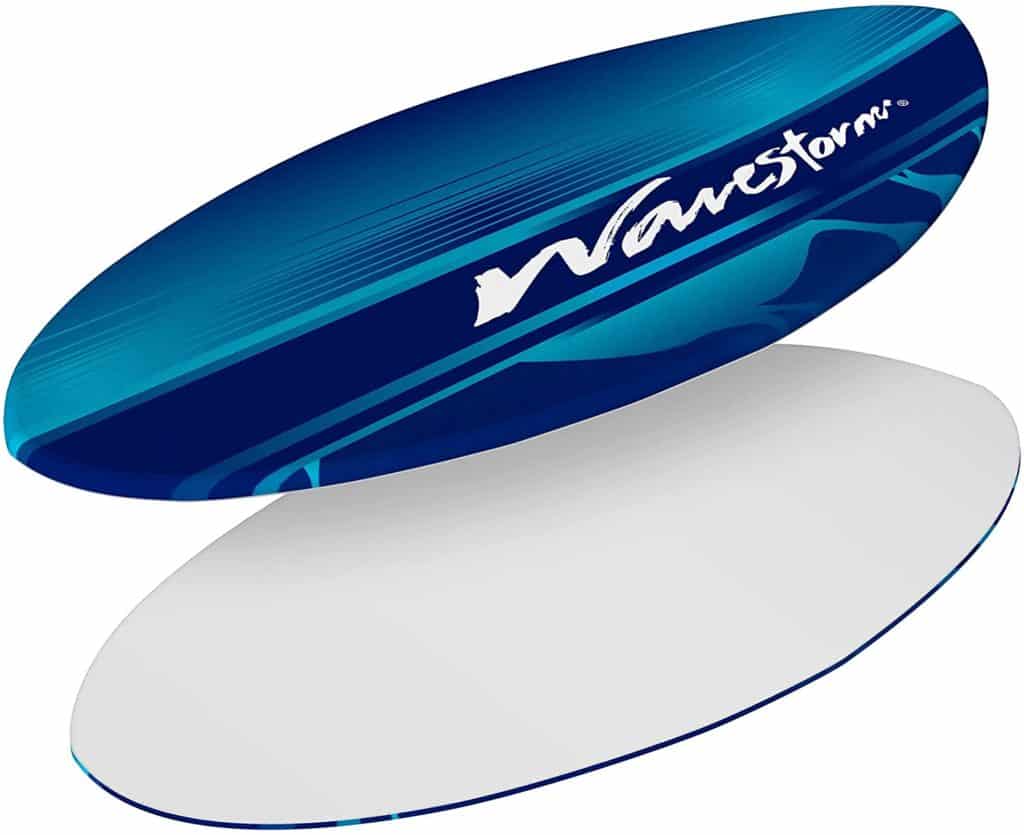 size: 48″
material: foam core & fiberglass
traction pads: no
supported weight: 185 lbs
best for: wave riding
Are you looking for a versatile board you can use for fun water sports?
The 48″ Wavestorm board is ideal for skimboarding and wakesurfing too.
Therefore, it's perfect if you fancy going for a ride with your friends but don't want to invest in a separate wakesurfing board.
For wakesurfing, a long skimboard is required so the 48″ is a good size to go for. Since the skimboard isn't as buoyant as a traditional wake surf, this longer board length makes it easier to stand and ride.
Wavestorm 48″ skimboard is another impeccable option for beginners or younger users.
The board is one of the longer ones on my list and measures 48 inches. Its width and thickness are 2.75 and 3.33 feet respectively. Despite its size, it is light but durable because of its EPS core.
The board looks slick, with crisp graphics that block UV rays so your board remains in good condition for longer.
Since the board is composed of highly dense polyethylene, you can expect greater speed so it's great for adrenaline junkies.
Thus just because it's constructed of foam doesn't mean you have to compromise on performance. Stringers run through the Wavestorm skimboard, keeping it firm so you can stay on top of the water and go as fast as you want.
The top deck of this skimboard is created out of Wavestorm's GFT technology. Although there's no grip pad, this material is spongy and gripping while simultaneously acting as a water barrier.
Though more grip will help, you'll find that you'll be able to stay on your board for the most part. This will save you money because you won't have to buy a grip in addition to the skimboard or make major upgrades.
Best with traction pads & handle grip pad: Driftsun with EVA traction pads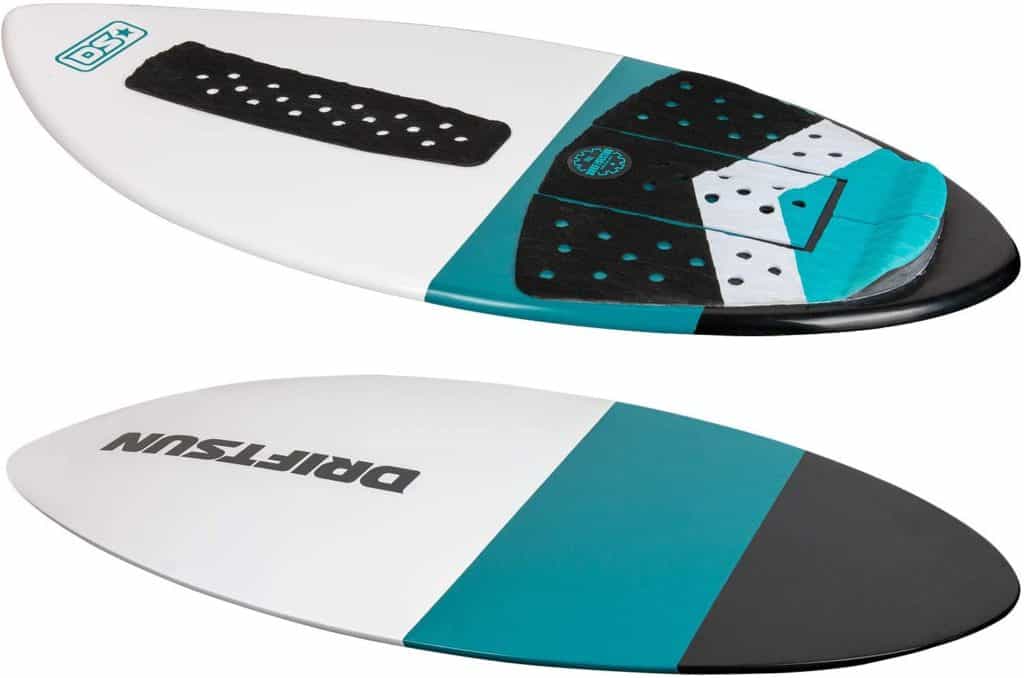 size: available in 44, 48, 52″
material: foam core & fiberglass
traction pads: yes, EVA Traction Pad
supported weight: 150 – 22o lbs depending on size
best for: wave riding
Grips and traction pads aren't just for beginner to intermediate riders and even pros like using them for extra security.
When your board is contoured, and has handle grips and a back kicker, you have more control and traction while riding.
Technically, a skimboard doesn't need traction pads because the surf wax provides plenty of grip however, there's a clear advantage of having grip pads.
It's easier to perform tricks when you have grips because your feet don't keep slipping off the glossy board.
The good thing is that you can wax all the parts of the board that don't have traction pads.
Therefore, the Driftsun fiberglass skimboard is the one to get if you are looking for a good grip.
Many skimboarders actively search for the layered EVA traction pad
The Driftsun Performance Skimboard may be exactly what you're searching for if you're seeking a high-quality skimboard for adults and teenagers that will help them go from beginner to advanced rider.
Driftsun is a pricier brand so it's not the best choice for kids who just want to gain some riding experience, it's more suitable for adults.
Because the smallest size is 44″, this fiberglass board is suitable for adults and taller/heavier teens only.
If you want to get the right board for young kids, this is not the one because it's too large for tiny youngsters.
The issue with this board is that some customers are saying the traction pad can come loose after extended use in saltwater.
Others are saying the board is very crack and break-resistant so it's much sturdier than a cheap board.
Adults and teens will enjoy it because the PVC foam and fiberglass body make it lightweight, speedy, and durable.
This board is effortless to turn in flat water and on waves thanks to its 2.5″ nose rocker. You can break those waves confidently.
Wavestorm foam vs Driftsun
The Wavestorm is the best foam core skimboard for all skill levels. Driftsun is the best skimboard with EVA foam traction pads.
The main difference between these boards is the price and the traction pads.
If you consider that traction pads are a must-have feature, the Driftsun board is the best choice. It comes with a professional traction pad and an arch bar so you don't slip while riding.
Wavestorm is a cheaper board but it lacks the grip pads and many beginners say the board is harder to ride.
The board is covered in a non-slip coating but it just doesn't compare to the quality of the Driftsun pads.
Also, the Wavestorm only comes in the 48″ size so it's less inclusive than the Driftsun which is also available in the extra-large 52″ for bigger riders.
Driftsun glides on the water like no other but the Wavestorm is a close second and its lightweight foam construction makes it easy to carry and mount.
It is also a good option for wakesurfing!
Best for smaller riders & best high-performance: Exile SuperG Skimboard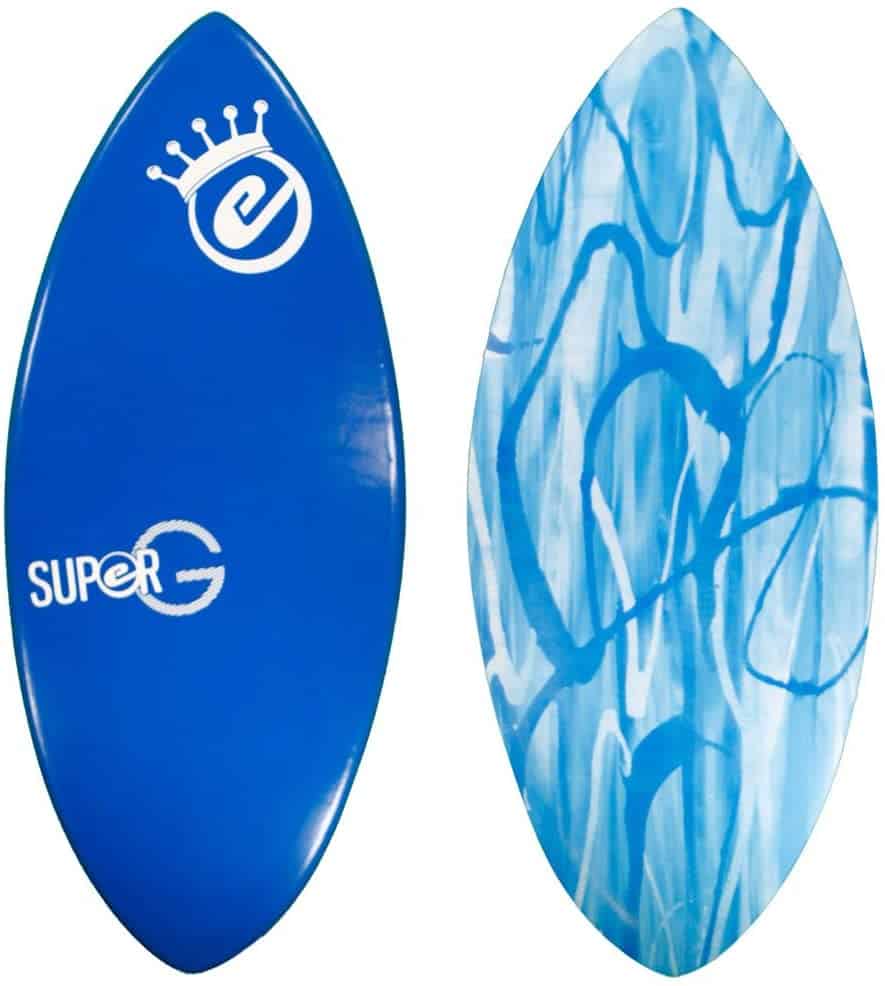 size: 40″
material: foam core and fiberglass
traction pad: no
supported weight: 95 lbs
best for: wave riding
Exile SuperG is the board for high-performance riders. You can use this board to perform all kinds of tricks like a 360 or backside big spin. Use it for wave riding or sand skimming alike.
If you are of smaller stature, this lightweight board has a foam core that makes it ideal for wave riding. The exterior features fiberglass coating which glides smoothly.
This board has a 95 lb weight limit but it's perfect for smaller adults and teens.
Not only is it easy to maneuver but it is designed in a tear shape which is just what you need to tackle waves and sand.
Smaller boards are a lot of fun and great for competing and the board's weight limit means that this product is a favorite among the younger crowd.
The small size is the one disadvantage because many adults mistakenly get this board but then it's just too suitable and they can't hold the skimming position.
The SuperG is one of those skimboards the young riders prefer.
Since it comes in many bright colors, it's a good competition board because it's easy to spot from a distance even in deep water or while you're sand skimming.
Another reason why riders prefer Exile boards is their durability. Even after repeated contact with salt water, it doesn't chip or flake.
Some cheaper skimboards like BPS, for example, just aren't made of the same high-quality materials.
The price for these Exile boards is somewhere in the middle between the budget products and the pricier Wave zone skimboards.
When you compare the quality, there isn't much difference between the two.
Best flatlands skimboard: DB Skimboards Standard Proto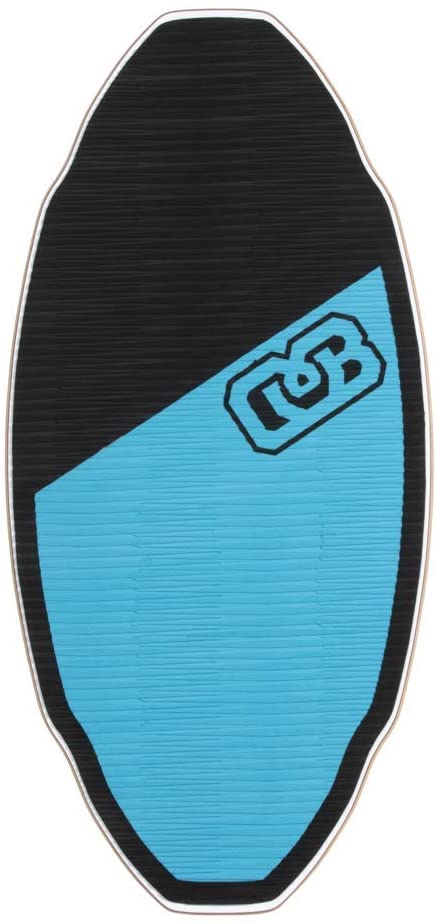 size: 41 & 43″
material: solid wood maple core
traction pads: EVA diamond foam top
supported weight: not specified
best for: flatlands
Because of its unusual design, the DB Standard Proto stands out among the competition.
The somewhat "squared" central portion that protrudes from the body offers the board more stability and mobility.
Therefore, this board is best if you're the kind of rider who likes to perform more complicated flatland tricks.
The concave form of the board is also quite appealing and the colorful top part will make you visible to spectators.
When trying a spin, the "bowl-like" shape and effect of the board allow you to ride with even more ease.
The board even has a continuous rocker which helps you out on tight turns. Some riders prefer this over a slight nose rocker.
The DB Standard Proto's build quality, more than anything, is what made it stand out.
This thing is built to survive, with two distinct sheets of (high-pressure laminate) which squish a solid chunk of maple wood.
Don't be fooled into thinking that the board's weight had to be sacrificed in order to attain this increased firmness and longevity.
Although the DB Standard Proto is primarily composed of wood, it is pretty lightweight (8.2 lbs) so launching and riding it doesn't take a lot of force. This factor makes it ideal for younger riders too.
The board's entire top surface is covered in DB's unique high-durability EVA diamond foam core, which allows for a very controlled skimming experience.
Some people are saying the board is a bit slippery for beginners because it lacks proper grip pads.
Also, it's pricey for a wooden skimboard. However, if you compare it with products like the Zap skimboards (more about those here), it's more affordable.
Exile SuperG vs DB Skimboards
These two skimboards made the list because they cater to specific needs.
The Exile SuperG is one of the top-selling skimboard brands and this particular board is small enough for shorter adult riders but is also created for professionals.
The SuperG is a superior performance board but has a weight limit of between 120-140 lbs so it's not suitable for heavier riders.
On the opposite end, the DB board is 52″ so it's best for large riders. This is a large/extra-large board with a unique shape.
It is designed for flatlands and inland skimming so if you want to catch more waves, use the SuperG.
Both these boards are great for tricks but the DB proto has an edge. Its odd shape reduces the swing weight so it's easy to pop.
Since the waist dimension is wider, the board is easier to ride than the tear-shaped SuperG.
FAQs
What is the best skimboard brand?
The best skimboard classification depends on your budget and the type of board you want. But there are a lot of great brands to look out for.
Here's a list of the top brands:
Victoria Skimboards
Fedmax
Atom
Exile
Zap
DB
Wave Zone
South Bay Board Co
SlapFish
Are wooden skimboards good for beginners?
Beginners who want to skim over wet sand or flat water on a skimboard should use wooden skimboards; meanwhile, beginners who want to catch waves on a skimboard should use plastic skimboards.
It depends on what you want to use the board for. Wood is the best skimboard material for those who don't want to go straight into the waves. However, these boards are too tiny, insufficiently buoyant, and flex excessively.
An epoxy foam board is a great skimboard to learn on for serious beginners ready to take on the waves.
How do I take care of my skimboard?
As with all products exposed to fresh or saltwater they should be rinsed thoroughly after usage.
Wash off any sand particles with warm water, preferably in hot water to prevent the transfer of any dust particles. Once done wash your hands then let them dry.
If the board requires waxing, be sure to wax it regularly- it will be easier to ride and wax offers natural traction.
How can I make my own skimboard?
Making your own skimboard with plywood is possible. It is a fun project!
This video explains the ins and outs:
Tell me the best way to maintain a skimboard?
Some skimboards develop tiny scratches and cracks in their underside.
If the coating is punctured on the board, it should be removed before future damage takes place.
Superglue may be a temporary fix if you intend to invest immediately into a new board. You may get the tools you need online or a surfing shop can make the repairs for you.
Is it necessary to wax skimboard?
Most professional board builders advise waxing your boards in order to reduce friction and traction. The type of wax you apply and the board's area for the wax are completely up to you.
Try different combinations and patterns of traction pads and waxed places. You may just learn something about waxing and traction pads from other surfers you meet at the beach at that time of the day.
Some boards like BPS wood boards don't require waxing but people still do, it's really up to you.
What skimboarding tricks can I learn as a beginner?
The backside 180 is one of the easiest tricks for beginners.
The body varial is a little more difficult but with practice is a cool trick to present to your friends.
While riding in front of a wave, jump off the board, turn 180° and land back on the board.
What skimboards do pros use?
Most pros use carbon fiber boards with a leaf shape. These boards are made of a closed-cell foam core and an outer layer made of fiberglass.
This combination is ideal for high-performance and all kinds of water and sandy surfaces.
Professional skimboarder Austin Keen for example uses an Exile high carbon board model. These are pricey boards but they are customized by manufacturers for each athlete.
How do I go after a wave?
Ideally, two hands should be in front of the skim. Both sides are going to be successful depending on your dominant hand.
When skimming always set your weight at the middle of the board. Keep that dominant foot firmly on your foot to assist in your maneuvering.
Takeaway
The water sport is an extremely exciting activity that provides an adrenaline rush like surfing.
You don't need the highest wave you just need speed-moving water, a nice board, and strong limbs that could race towards the water.
It's a fun water sport for those who are tired of paddleboarding and want to catch a small wave.
With a great board like the SlapFish, you can learn this new sport and take in all the sun while at it.
Keep you gear dry and safe while you are having fun with your skimboard. I've reviewed the best waterproof backpacks here
Joost Nusselder, the founder of Kauai Surf Report is a content marketer, dad and loves trying out new sports with everything surfing at the heart of his passion, and together with his team he's been creating in-depth blog articles since 2019 to help loyal readers with surfing and water sporting tips.